Mio-Mio: List der Vernunft (Cunning of Reason)
instant opera, premiere
Friday, November 11, 2011, 8pm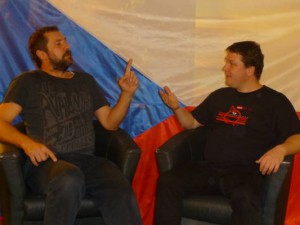 Where there´s a will, there´s an idea. Radically subjective interpretation of relationship of two brothers (V. M. and V. K.), who lie in each other´s eyes.
Dramaturgy: Fedor Blaščák
Directed by: Martin Ondriska
Music: Stanislav Beňačka, Marek Piaček
Performers: Mio-Mio: Marek Piaček, Stanislav Beňačka
Production: Stanica Žilina-Záriečie s podporou Ministerstva kultúry SR
In Slovak and Czech.
www.memorykontrol.org
www.mio-mio.org
Admission: 5,00 / 3,00 € (adults / students)
Tickets booking: rezervacie@stanica.sk, +421 (0)41 56 23 564