Space & technical riders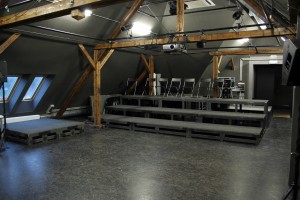 Spaces and capacity:
S1 performing space in the attic, 120m2, 3-4m high – theatre and dance performances, concerts, conferences / 50 – 150 people
S2 new performing arts building, 250m2, 5,5m high – theatre and dance performances, concerts, conferences / 100 – 200 people
Studios, 2 x 30m2 – visual arts workshops for children and adults / 2 x 15 people
Café-bar, 100m2 – alcoholic and nonalcoholic beverages, hot and cold drinks / 30 – 100 people
Garden and park, 1ha / 200m2 roof-covered by the bridge – park, children playground, petangue, summer concerts and festivals, illegal camping, legal graffiti zone, summer terrace / up to 500 people
Bedroom, 20m2 - modest accommodation/ 4 beds
Complete list of light, sound and video equipment can be found in our tech rider.
Download light plans:
- Stanica_light_plan
- S2_light_plan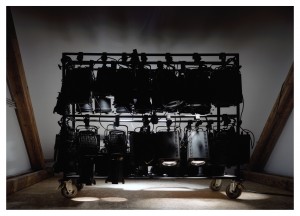 Technical equipment:
Lighting equipment - programmable console Zero88 Elara (48 channels), mobile dimmers ETC Smartpack (2×12 channels 2kW) a Zero88 Betapack (2×6 channels 2kW), theatre lights: PC Artlighting 1000W (12pc) and 500W (11pc), zoom profilers ETC Junior 25°-50° 575W (8pc) and Selecon Pacific 23°-50° 1000W (2pc), fresnels Artlighting 1000W (4pc), asymetric floodlights Artlighting 1000W (4pc), PAR 64 CP 60-61-62 Eurolite 1000W (14pc), Pinspots Eurolite 230W (4pc), floor stands (5pc) and high stands 1,5-3,4m (5pc) a other accessory…
Sound system - digital mixing console Yamaha 01V96 24 channels in/8 channels out, analog mixconsole Numark 200FX MK2 6 channels, active PA speakers FBT PSR 212A 500W (2pc) and subwoofers FBT PSR 118sA 1kW (2pc), monitors dB Technologies Opera M12-4 (4pc) and subwoofer Opera SUB15, multi-core 30m (24in/8out) and 15m (8in/4out), microphones: Shure SM58 (3pc), AKG D880 (1pc), AKG D112 (1pc), AKG C1000S (2pc), AKG C418 (4pc), Audix OM3 (2pc), Audix i5 (6pc), Audix VX5 (2pc) a wireless microphones Audix RAD 360 (2pc), 2CD player Numark, MD player Sony, stands, DI.BOXs, drum set, other accessories.
Other equipment - beamers Hitachi CP-X 1250 XGA 4500 ansi lumens and Panasonic PT-LM1E 1200 ansi lumens, TV Toshiba 32" LCD, DVD players, … projection screens 6 x 3m, 3 x 2m, 2 x 2m, dance floor grey, white and black, folding chairs, modular stage system 30-60-90cm, wi-fi internet in the whole building…
Download technical riders:
- Stanica tech rider (light, sound, video)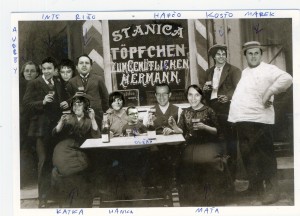 Rental and services:
If you would like to rent our technical equipment, use the services of our technicians for your event, or for your event to take place at Stanica, please contact Marek Adamov (marek@stanica.sk, +421907137145) or our technicians. The profit from rental goes towards helping us to maintain Stanica, improve the technical equipment or develop new things in the surroundings.