Café-bar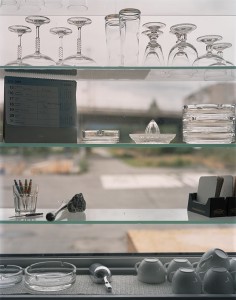 An important part of Stanica is the café-bar. The whole space was enlarged and redesigned in June 2011 by Peter Liška & Dušan Veverka, so there is space for all our visitors and activities. There is a nice new terrace in the garden behind Stanica, completely fenced for more privacy and safety. The previous gallery space was also taken over by the bar, but we are planning the construction of the new exhibition space.
We serve some great Czech beers from Černá hora, Kofola and other non-alcoholic drinks as well as good Slovak wine from Doľany and many spirits at reasonable prices. You can also relax with a cup of coffee or tea from Rioba. There are a range of interesting magazines or newspaper to read and there a small shop with; Stanica's T-shirts and other gifts, current Slovak (and Czech) art magazines Flashart, Designum, Vlna, 3/4 revue, Salto, Kód, Dance Zone, Tamto, Homo Felix and few CDs and art publications.
Café-bar in Stanica is self made and operated by volunteers - all of the people working in Stanica, so you can enjoy chats with programmers or technicians and discuss your ideas. All the money raised from bar business helps us to pay for the operation of the cultural centre, especially for electricity and heating - so we are grateful for every euro you spend here. And of course the bar also serves as the waiting room for train passengers.
It is a non-smoking bar. Open every day from 12.00 am until 22.00 pm (and often longer) and during the events if there are still people using the bar, up to 04.00 am. Closed only during Christmas and New Eve.
Download the menu and prices here Café-bar na Stanici - menu 2011
the photos of the new one will come soon:
Photos of the new big bar:

For the history, see here the photos of the old small bar: