Mercenary architects in action!
"Living Underground workshop was useful experience where the enthusiastic people from Stanica shared their knowledge with me to make Ateneu santboià (Barcelona) a better place to live," Sergio Fernandez.

"During two intensive days and nights, we have tested utility of dispositional design of new Tabačka's model, we have been looking for a new solution of interior, courtyard while keeping all the necessary functions. We have been discussing the green roofs, as well. In a short time, we were able to move whole architectural design forward," Peter Radkoff, Tabačka Kulturfabrik, Košice.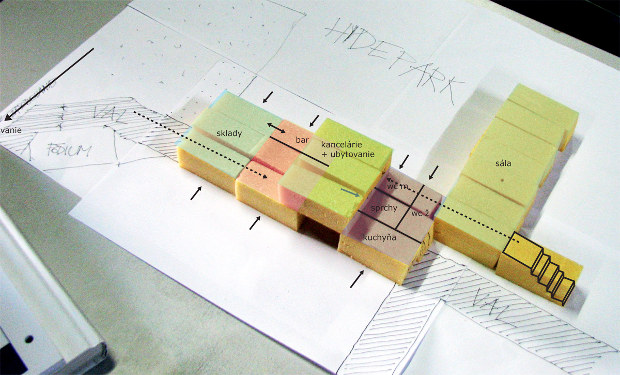 "An excellent diverse week. I think not only the centers, we were working for, have made a progress forward but so we have," Peter Lényi, architect, Living Underground 2013 workshop leader.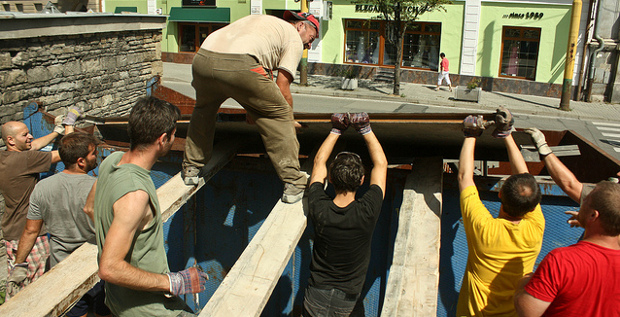 - - -
Peter Lényi: LU9 report
This Living Underground was more intimate than previous ones. Last year, it was a conference focused on the topic of 'culture center' connected with brainstorming about what kind of book this community would appreciate. This year our approach was much more dedicated to practical outcome - specific spatial solutions and architectural designs for particular venues.
The issues were many which was good. The time for solutions was limited which was good as well in the end. During our work, we were concentrated on practical-technical level with only occasional turns into more abstract topics. In our team, this structure worked perfectly.
Every day, a different cultural venue came to us with a new set of problems to solve and a new person to discuss with. We have gone through Tabačka, Hidepark, Bunka, Pôtoň, Nástupište and simultaneously Ateneu Sant Boia.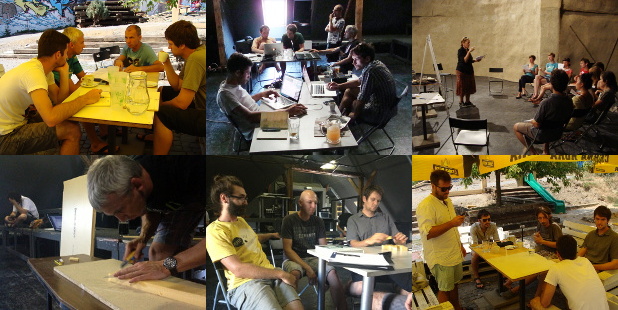 Individual approach to each assignment was strongly influenced by its representative - Peter Radkoff came in a phase of having seen a great volume of different solutions how to convert industrial space for the art purpose all around Europe. Thanks to this, we were not forced to reinvent something what already exists but we could directly compare Tabačka with other, similar, already transformed venues, look for paralels, seek inspirations and unify concept of whole interior.
Guys from Hidepark came to us with a question "What to do with twenty containers"? How to organize them in some kind of structure, so the final result fits into the urbanism - to provide office space, bar, toilets, concert hall, with possibility to enter by a truck and bring the gear on the stage? After discussing tens of variants, we came to a configuration which seems very viable and will hopefully survive also the discussion among the rest of Hidepark crew back home in Nitra.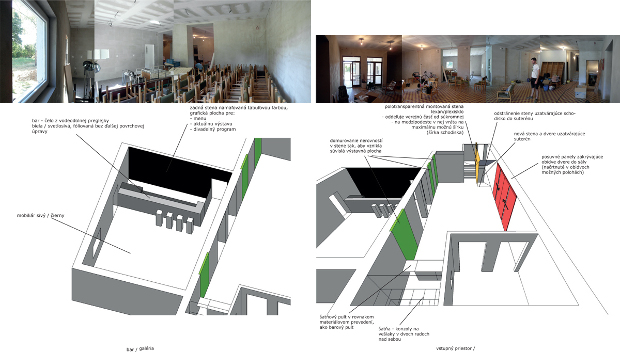 Pôtoň got a new bar and entrance design. Bunka was dealing with an issue of how a tiny cultural venue can survive while its creators are active in different towns. Ateneu Sant Boia - still only emerging cultural venue close to Barcelona - attempts to convert the entrance hall into concert hall using mobile stage and bar.
- - -
Workshop Living Underground 2013: Mercenary architects took place during 5 - 10 august 2013 in Stanica. Four brave architects and designers Peter Lényi, Peter Liška, Tomáš Dupkala, Michal Marcinov kept designing solutions for cultural venues: Tabačka Kulturfabrik (Košice), Divadlo Pôtoň (Bátovce), Nástupište 1 – 12 (Topoľčany), Hidepark (Nitra), Projekt bunka (Nitra), Ateneu Sant Boi (Španielsko) for six days. All the organizations are members of Antena or Trans Europe Halles.
Audience development working session with Anna Grega from Australia and the lecture of Peter Biľak were also parts of the activities. Workshop is a part of international project Engine Room Europe.
To keep the lecturers' health in good condition, they were doing also some manual work in reconstruction of Nová synagóga / kunsthalle Žilina.
Photoreport:

Support: