The Tales of Stanica
Festive premiere of films and DVD presentation
Monday, December 20, 4pm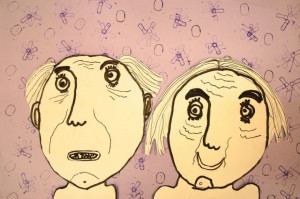 Sea in a kitchen sink, fish learning to fly, bee doing the laundry and cow grazing in Hliny, Žilina? These are only few motifs from our fictious and realistic film tales – feel free to come to see the rest!
Between 2007-2010, an animated documentary The Tales of Stanice on the history of Stanica Žilina-Záriečie was made. It was filmed by children on the basis of memories collected in 2003 from the oldest M. family members, who used to live at Stanica. Besides this huge project, we have managed to film other stories – short animated films: Adaptable fish, The set table, Discontented TV boar, and The tale of Stanica laundry. These are all part of the DVD.
Program prepared in cooperation with L. Árvay ZUŠ – art/music/drama department. May Father Christam drop by?

Free entry.
DVD with English subtitles is on sale also later in our Christmas market in Stanica for 5,00 €.
2 Comments