Living Underground 6 – Polom
workshop, 22. - 29. 8. 2010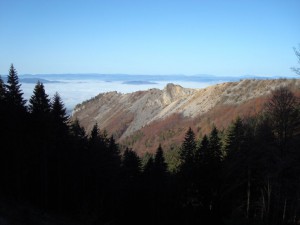 workshop/symposium/ architecture-design (Stanica_FLUX)This year's workshop of young architects and designers called Living Underground no. 6 took place at the cult monument Polom above Žilina, almost forgotten place with strong atmosphere. It is a historical monument, each year visited by some survivors remembering the end of Second World War led by a politician. They garland the memorial, and another year – nothing happens, except for occasional invasions of adolescents or weekend tourist. During previous Living Underground events, workshop participants would climp it up. Now is the time for intervention… land art, programatic change, suprise for random tourist, attraction for others… "The goal is no superficial provocation… we are aware of our history and its particular episodes. We are into an upgrade, positive superstructure," wrote Martin Jančok, architect from Plural atelier. See bellow the process and result of their intervention.
Participants of the workshop Living Underground 2010 (Martin Jančok, Ondrej Horváth, Braňo Matis, Katarína Gatialová, Ľubica Segečová, Anna Jablonowska, Silvia Lovasová, Peter Liška, Marcel Benčík) and the result of their work - empty memorial board from dark granit stone in which you can inscribe your own message or memory on the top of Polom monument:
More info and photos at Living Underground's blog www.livingunderground.wordpress.com.