Summer festivals in Stanica
Theatre Kiosk & Animated Fest Anča
The summer is soon here and this is the first call to our two festivals. Please, note the dates especially. As you see they are not really of a local kind of small open air beer-teenage-music kind… not at all. Kiosk is focused on independent Slovak drama and dance, but inviting also creators from abroad - Slovak emigrants. And Fest Anča is fully international festival and competition of animation films from all over the Europe.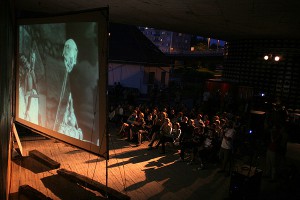 For us as organisers and hosts it is of course very hard to have two of such big events in a week, but we it is really good for spectators coming to Žilina - in one week to enjoy the performances of Kiosk and film screenings of Fest Anča…and in between maybe a trek in Malá Fatra mountains or swimming around Žilina. At the moment we are working very hard not only on the festivals' program but on finishing the construction of S2, our new space. And also we will try to have finished the new toilets and showers in the park under Rondel bridge that you can enjoy camping during the festivals… we hope we will manage. And what's in the program?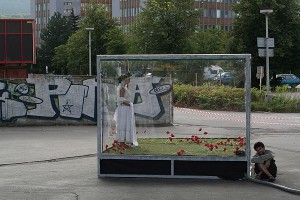 Kiosk: Eva Klimáčková & cie E7KA (Ivanuska), Peter Šavel a Stanislav Dobák (One for you, two for me), Milan Loviška (My Art: Who´s Frank?), Marek Piaček & Stanislav Beňačka (Mio-Mio: Malevich – Malevich & Zbojníci), Divadlo z pasáže (3 x (A), directed by Jaro Viňarský), students of VŠMU (Barbados, directed by Júlia Rázusová), Divadlo SkRAT (Zvyšky) and the premiere of international co-production The Painted Bird (directed by Pavol Zuštiak & Jaro Viňarský). The full program of performances, concerts, parties and workshops soon at archiv.stanica.sk/kiosk.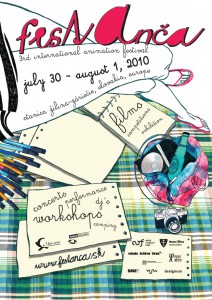 At Fest Anča you will have opportunity to see lots of animations of all genres, lengths and target audiences. Some of them in the international competition for Anča award a Award of tv.sme.sk. There will be workshops and know-how-to-do-it sessions, meetings… and in the evenings - concerts and parties of course. The program soon at the festival website www.festanca.sk.
There are also other events during the summer - mainly workshops for adults and kids, see them at our website in category Workshops.