Memory Kontrol / normalization and its neo
festival and symposium
Monday – Friday, 12. – 16. 11. 2012
"Who thinks what he sees and who tells what he thinks, is weird." Konrád Gyorgy, Abusive State
Do not forget this year's Memory Kontol. 5th volume is bringing theatre, concert, films, programme for schools, Czech-Slovak student debate, literature, exhibition and two-day long intergeneration symposium of central-European intelectuals. The reflection of continuity of mechanism, that co-created social consensus during normalization and survived until today, is awaited.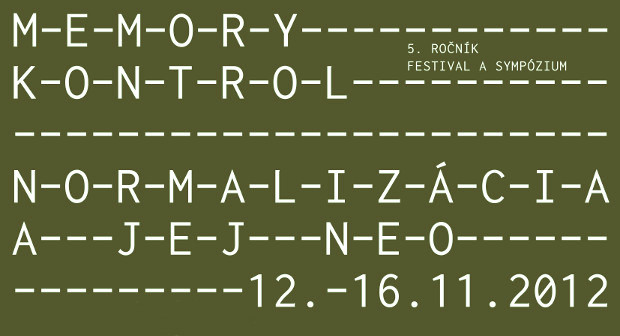 Monday 12.11., 5pm, Nová synagóga
exhibition opening
Thank you for accepting our participation
Why did normalization last so long and with what kind of heritage of normalization are we forced to learn to live? The exhibition combines pieces of classics in their traditional genres (sculpture, object, installation, photography) with works of middle-aged and young generation of artists who are presented mainly via video.
The exhibition is opened daily (including Monday) from 2pm until 6pm and lasts until 16.11.
Tuesday 13.11., 7pm
projection
Dialog 20-40-60 (Jerzy Skolimowski, Peter Solan, Zdeněk Brynych)
Sonde into emotional ties between a man and a woman of different age. An analysis of love and marriage of those who enter the life in climax, as well as those who are already counting their days. Film consists of three stories of three different directors.
Dialog 20-40-60 – Jerzy Skolimowski, Peter Solan, Zdeněk Brynych / ČSSR / 1968 / 78 min
Wednesday 14. 11., 6pm
discussion
Separation of Czechoslovakia was right decision
Czecho-Slovak debate match for and against this thesis between Czech and Slovak student teams. Attitudes and arguments of generation that did not experience one state. This event is organized with Czech Association of debate clubs and Slovak debate association.
Wednesday 14. 11., 8pm
concert
Kubo Ursiny & Provisorium
Provisorium - Dežo Ursiny's band. Son of legendary Slovak musician decided to revive father's legacy. The result sounds highly authentically. Kubo's vocal with band's performance is doing a great job. After almost twenty years, we will have an opportunity to hear music from records like Ten istý tanec (The Same Dance) and Príbeh (The Story).
Thursday - Friday, 15. – 16. 11., (opened for public between 4pm and 5.30pm)
international symposium
With what kind of heritage of normalization are we forced to learn to live?
Discussion about a bold line, burning the archives and forgotten generation. About marvellous ability to read between lines, about moral but also about why corruption is friendly to family. About source of aspirations that are impossible to adopt, but to adapt. And also about who are new enemies and why. International symposium of young and middle generation central European academics and intelectuals focused on reflection of continuity of social consensus production mechanisms before and after 1989.
Thursday 15. 11., 6pm, Artforum in Žilina
literature
Peter Getting: Studne mútne (Muddy Wells)
Writer about Slovak writers and artistic collaboration with various regimes. The lecture will be connected with a projection and live recitation (Alžbeta Vrzgulová).
Friday 16. 11., 7pm
theatre performance
Divadlo na tahu (Cz): Václav Havel – Audience
Legendary playled by Václav Havel. Tragicomedy based on his experience from short-term employment in the Trutnov brewery cellars. Theatre founder and director, Andrej Krob, is respected executor of Havel's theatre texts. He was one of his best friends and a neighbour at Hrádeček where he was helping to organize performances of banned authors during 70's.
Performing: Karel Beseda, Radek Bár
Director: Andrej Krob