Dance, dance, shoot
dance film festival
Friday - Saturday, 27 - 28 April 2012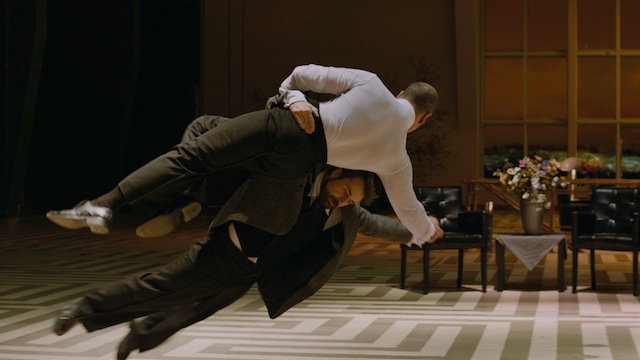 First edition of dance film festival, as a celebration of International Dance Day (29th April). Apart from film projections at Stanica, the festival will offer happenings and installations in the streets of Žilina, projections of slovak dance films on wide screen at Hlinka square, or the premiere of performance Dátum spotreby (Expiration Date) by dance theatre Alternatív, as well, as the new film by Zuzana Burianova Kto z koho (Nip and tuck).
27. 4., Friday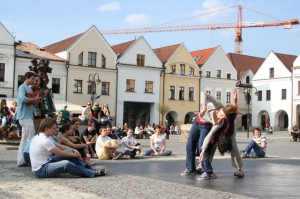 Plusmínusnula gallery / Artforum / Andrej Hlinka square / Mariánske square
15.00 – 18.00 Dance in city streets
Dance installations, performances and happenings at various places throughout Žilina (Jaro Viňarský, Matthew Rogers, Zuzana Burianová and Dance theatre Alternatív).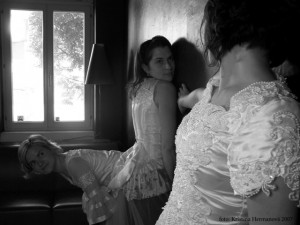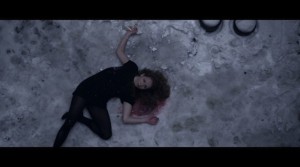 widescreen at Andrej Hlinka square
15.00 – 18.00 Slovak dance films
Reč dychu / Speech of breath - Zuzana Burianová / Sk / 2007 / 7 min
Dance film project reflecting the concept of breathing and its dynamics in various places in Žilina through dance and brass instruments´ music.
Denníky / Diaries - Zuzana Burianová, Peter Pikna / Sk / 2011
A dance movie regarding the intimate enviroment, which we wish, or refuse to share. Diaries portrait the stories of young people in places, which underwrote in their memories as "critical". The project reflects their behavior in particular situations coming from the desires after something, they don´t have, or lost for good. Actions leave traces in spaces, that are uncovered by the camera, watching from behind the wall.
voiceS - Yuri Korec, Peter Babjak / Sk / 2010 / 19 min
One body, many souls. Dance film regarding multiple personality disorder problem. A story of a woman, who is being confronted with her different identities, based on a real case of one family. The film was developed in cooperation with s cieLaroque/helene weinzierl and D.N.A. Production Bratislava.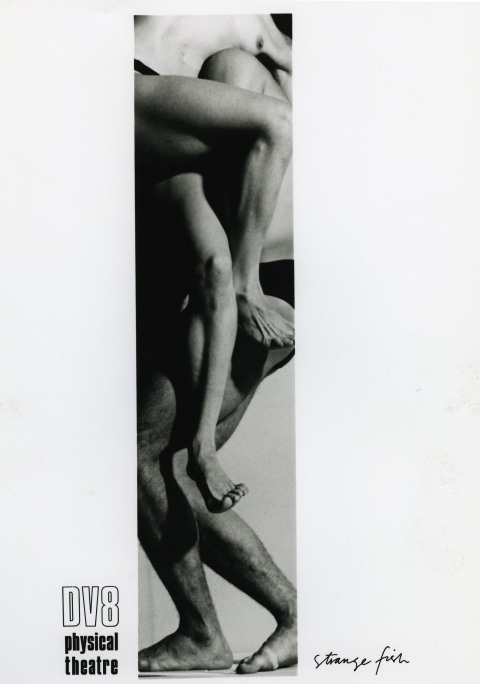 19.00 David Hinton films
David Hinton is one of the highly acclaimed directors in the field of "dance of camera" - a specific genre bounding with experimental film, where the movement (dance) is being performed especially for the camera, and in front of it. He worked with the most famous contemporary dance groups such as physical theatre DV8, Siobhan Davies, Wendy Houston, or Russell Maliphant. He earned many prizes for his works: Prix Italia, for the film Strange Fish (1994), or the main festival Cinedans prize for the film Nora (2010) to be mentioned.
Strange Fish - David Hinton / Uk / 1998 / 50 min
This film adaptation of the staging by DV8 Physical Theatre group is the second, and by far the last collaboration between the director David Hinton and choreographer Lloyd Newson. Strange Fish is a spectacle, and a motion picture about the natural human longing for love, about seeking someone, you may fall in love with, and in whom you could believe in. This piece is full of profound images and pure symbolism, it´s a mixture of bitter humour, religius iconography and physicality. Aspects so characteristic for the work of DV8 Physical Theatre, after which the contemporary european dance scene entered a whole new phase, forming the physical theatre itself.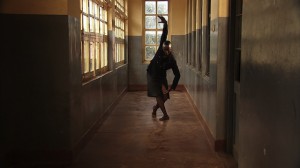 Nora - Alla Kovgan a David Hinton / Uk, Usa, Moz / 2003 / 35 min
The newest motion picture by David Hinton, who worked together with Alloa Kovgan. It portraits a story of a dancer, Nora Chipaumire, her childhood, and adulthood taking place in Zimbabwe. Based on her real life, the film is partly a autobiography, partly a fiction, a thrilling cinema piece on one hand, and a dance film on the other.
Film scenes are occasionaly cut apart by short subtitles in english language.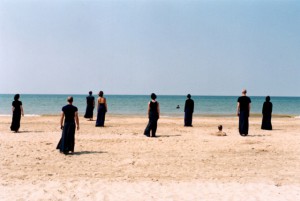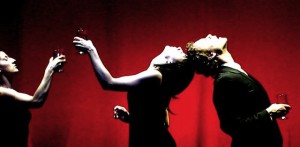 21.00 Choreographic fictions
Short belgian film set made by Compagnie Mossoux-Bonté.
Scelsis´ continuations (Scelsi suites) - 1990 / 20 min
Nothing incredible (Rien de réel) - 1994 / 24 min
Bad weather (Intempéries) - 1997 / 24 min
Two artists, Nicole Mossoux and Patrick Bonté established in 1985 a collective Compagnie Mossoux-Bonté in Belgium, which they made tens of theatre performances within. From 1990 to 2003, they succesfully made few intersections to the world of film and video, thanks to the meeting with two film directors, Dirk Gryspeirt and Michel Jakar. Short films full of dummy emotions are to be the result. Imaginary taiga, disappearing landscape, creatures moving backwards, a couple, who keeps adapting again and again, without understanding each other… Like in other performances, the film also offers an exploration to uncertain zones of susceptibility and different approaches on our relations with the world, portraited via special confidentiality, sense of humour and cold intimacy. The last of the three films is in russian language with french subtitles, but visually impressive, although you may speak none of the languages mentioned.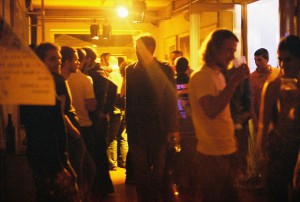 22.00 Festival gaff
djs: Jenal Bukeh, Miloš Cornell (stereodisco.sk)
Funk, hip-hop, disco, raregrooves, broken beat and others.
28. 4., Saturday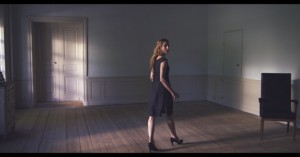 16.30 Dance on Camera Tour
Two films screened at the Dance on Camera festival, which is from 1971 regularly introducing a wide variety of documentary, short, featured, or experimental dance film from all around the world.
Vnútorný labyrint (Labyrinth Within) – Pontus Lidberg / Swe / 2010 / 29 min
Existential thriller dealing with jealousy in the relationship of man and woman and her elusive lover. A hunt, induced by jealousy, starts a series of few intense, physical "pas de deux" - dance duets, or duels - happening in a steep appartment.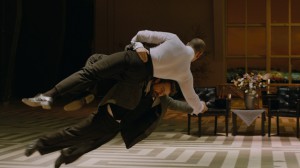 Blow of mercy (Coup de Grace) – Clara van Gool / Nl / 2010 / 26 min
Film adaptation of the play Oleles (2003) with choreography of two performers - Jordi Cortes Molinu and Damian Munoz. Coup de Grace investigates the relations between two opponets, who meet at an agreed place in battle unarmed. Its course is accompanied by extreme emotion and an intense specific motion style, where a wild cruelty alternates with moments of unexpected tenderness. By these, the two energic "matadors" form an enormously engrossing drama.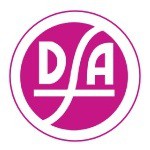 The annual Dance Films Association festival, called Dance On Camera Festival is co-financed by film company Film Society of Lincoln Center, and supported by National Endowment for the Arts.
18.00, dance performance - premiere
Zuzana Burianová and Dance theatre Alternatív: Dátum potreby / Expiration Date
An opening of dance performance about different forms of expectation, which are considered to be a specific code in morals of individuals, unless they "suffer" by it. The lights go out, and on again, and nothing changes; a body leant, but the fall is not comming; a deep breath, but you cannot hear anything…did you expect something?
Directed by, choreography by: Zuzana Burianová
Performing: Dance theatre Alternatív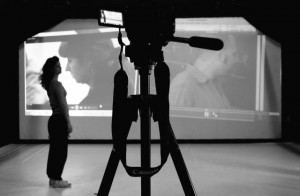 + Kto z koho / Nip and tuck - Zuzana Burianová / Sk / 2011 / 30 min
An opening of feature documentary, asking how could civil moves possibly form into a suitable material for a dance performance.
Directed by, choreography by: Zuzana Burianová
Dramaturgy: Adam Hanuliak
Camera: Richard Chomo, Peter Kotrha
Edited by: Peter Kotrha
Performing: Soňa Ferienčíková, Jaroslav Ondruš, Nicolas Theys, Danka Šašinová
The projection will be joint by photo exhibition by Kristína Hermanová, documenting the film shoot.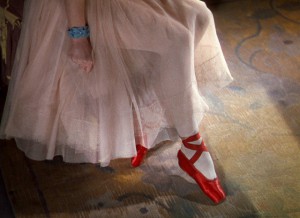 20.30 Červené črievičky (Red Shoes) – Michael Powell, Emeric Pressburger / Uk / 1948 / 136 min
The closure of festival will belong to british dance classic, about young tallented danseuse, Vicky, who tosses upon the love to a man and her dream, to become a prima ballerina. The motion picture is the tenth joint project by directors Powell and Pressburger. They got inspired by a fairytale by Hans Christian Andersen, about the girl, who succumbed the magic power of red dance slippers. This theme is developed into a stirring story, where the viewer is dragged into the inner world of main character. The girl is standing before a fatal decision, in that moment she struggles whether to trust her natural feelings, or the commitment to dance art.
The most famous title from The Archers productions combines so far separated territories of theatre stage and film.
Admission:
One film block: 2,00 €
Two premieres in Saturday (Expiration Date + Nip and tuck): 5,00 / 3,00 € (adults / students)
Permanent ticket: 8,00 / 5,00 €
Ticket reservations: rezervacie@stanica.sk, 041 - 56 23 564
You can find photos on our flickr account HERE.
1 Comment