Video: On the white wing (documentary by Peter Pikna)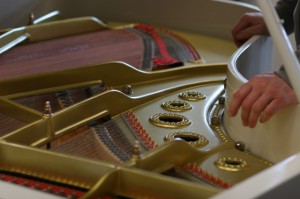 Stanica has got a new piano and also a documentary from its inaugural concert! A restored white grand piano by the Rösler make from 1993 was baptized by well-known Slovak pianists and composers: Jordana Palovičová, Ivan Šiller, Kamil Mihalov, Peter Zagar, Branislav Malatinský, Jaroslava Šimerková, Martin Jurčo and others, see them in the documentary film by Peter Pikna.
See also photos from the concert at Foto: Na bielom krídle or the photos from the general restoration of the piano.
Just to add that you can still support demanding restoration works via project Na krídle (klavír pre Stanicu) on Dobra krajina (www.dobrakrajina.sk) or in person at Stanica. Proceeds from the event will support its further renovation and concert life at Stanica.