Presentation of works from the public art workshop InBetweenCentre II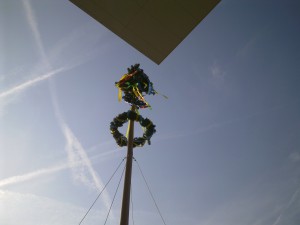 It is July and the temperature climbs to 33 degrees Celsius. On the Hlinka square stands a May - traditional Slovak tree symbol built in May usualy. Is the strain of a plastic sewer pipe and on top of it there is an artificial Christmas tree. The artist Alžbeta Lišková designed a practical package offer for May for every woman that can be built anytime in the year.
This work together with other works is came out from the international art workshop for students (AFA Prague, TU Košice, AA Banská Bystrica, AFAD Bratislava) hosted by Stanica and led by Nina Šosková, Ivana Sláviková and Eva Masaryková. Thursday 14th July 2011 we invited you to join opening and walk around town, as most works were installed in public space. Starting in the courtyard of Považská Gallery of Art and continuing walk towards Stanica. Many of the works were allowed only a short time, so now we can only write about them.
Forms of contemporary art are diverse and allow wide discretion. On the graffiti walls surrounding Stanica a new fresco was added by Veronica Neumanová. Andrea Štrbová presented the video of theirher actions with lighting of historic buildings on Mariánske Square - jokingly pointing to the need of reconstruction. Mirror composite architectural setting by Táňa Rjabininová reflected the shopping centre Mirage.
Works inflate, we find them in unexpected places. Not just statues and paintings, but also as a sound installation. A kind of "karaoke" was a work of Marek Hlavac in the bar in Stanica. Rotating direction indicators to 19 galleries were standing on Hlinka Square as public-art project by Marek Galbavý.
Michal Machciník and Marek Cina issued for the PGU a reproduction of old photographs of country life, architecture. They gave retro images in the current context. JPLT Válka operated both in Stanica and PGU - he designed the floorplan of Stanica in the garden of PGU and the floorplan of the gallery in Stanica - as a missing element in each environment.
The results of the workshop include a floating island George Hladik, which we can find outside city on the lake in Nezbudská Lúčka. Young author says: "Since childhood I wanted to have my own island in a remote foreign land." His dimensional object floating on the water surface, the rear end lift and empty barrels are made from polyurea sponsored by Športstav. New technology allows the surface of an "island" to be completely covered by grass.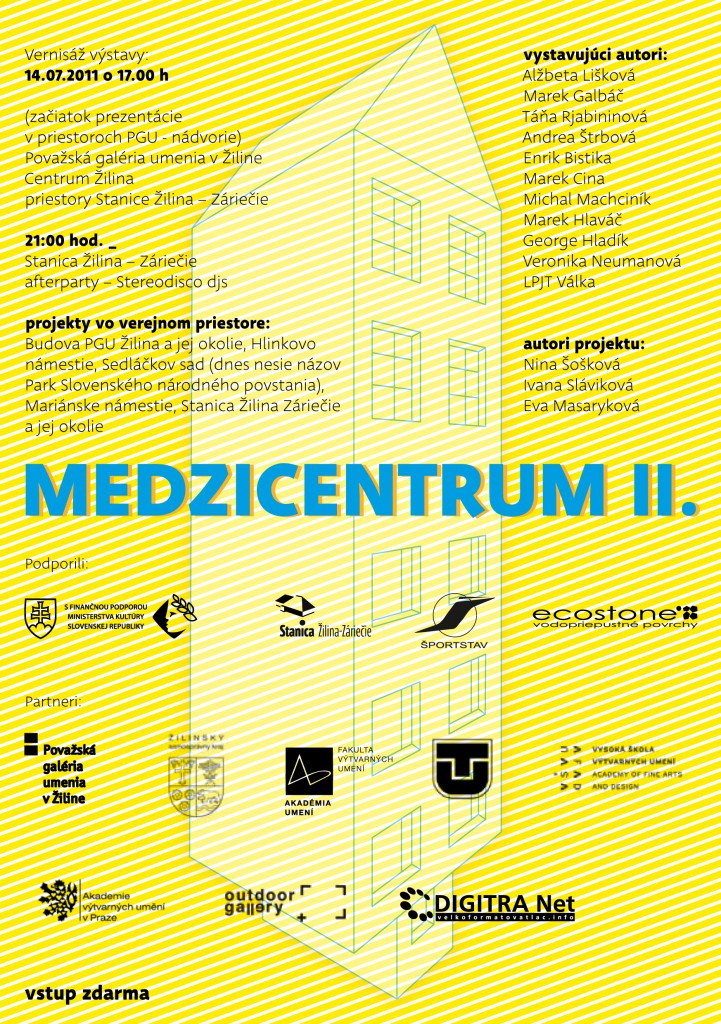 The workshop was the second edition of Medzicentrum, linking cultural centers at railway stations. The first edition took place at the station and Banská St a nica Contemporary in Banská Štiavnica. This year the project was implemented in cooperation with Stanica, City of Žilina, Považská Gallery of Art, Považské Museum in Žilina and Športstav. And thanks to financial support from the grant of the Ministry of Culture of Slovakia.