Engine Room Europe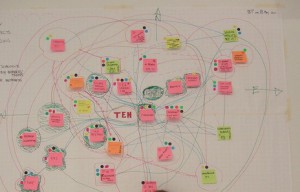 Thanks to a grant from the EC Culture Programme, the network Trans Europe Halles has been able to set up a three‐year programme (May 2011 – April 2014) of activities dedicated to independent cultural workers and their creative processes. Through Engine Room Europe, TEH is able to offer staff, volunteers and artists opportunities to take part in exciting exchanges, workshops and collaborations happening all over Europe in the three years.
For more information about the project, please see the TEH website: www.teh.net.
Stanica is one of the twelve official co-organisers of the Engine Room Europe project and is mainly responsible for coordination of Living (under)Groung activities dedicated to young architects, designers and people from Trans Europe Halles centres dealing with public and cultural space and researching alternative architecture and design to help it grow and function. Living (under)Ground is a creative laboratory focused on possible strategies for creating space for the artists and cultural action.
The activities at Stanica consist of workshops and symposiums, artistic residencies, volunteers' activities, public presentations, interventions in the public space, artistic creations and permanent research in the field of architecture and cultural managment of independent cultural centres.
Living Underground Core Team is focused on the creative collaboration of about 30 people to research and develop the idea of sustainable urban design. The team consist of the Stanica team, volunteers, artists working at Stanica, local people. The core team tightly cooperates wit the participants of the workshops and artists in residencies.
Very important is an international co-operation within the Trans Europe Halles network and with artist from abroad.
Example of our activity is a oneweek international workshop/symposium taking place at Stanica in August every year. Up to 20 people from various cultural centres and design/architecture studios will be working on a concrete task, designing an innovative model. All in one week with little finances and donated material.
For more information: Marek Adamov, marek@stanica.sk, +421907137145.
The activities are part of the Engine Room Europe (Living Underground), a project initiated by the network of independent cultural centers Trans Europe Halles.


Co-financing partner of the project part in Slovakia is Ministry of Culture of Slovakia.