Fest Anča 2011
International animation festival
Friday – Sunday, July 1-3, 2011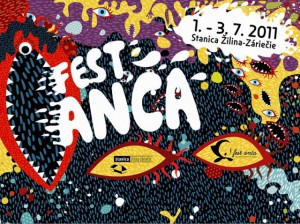 Fourth edition of international festival Fest Anča will take place earlier this year. Festival audience will have a chance to see lots of animated films from all over the world for the first time in Slovakia. Film with Oscar nominations, BAFTA winners and nominations, Venice and Berlin festival and other. Apart from Stanica, screenings will take place in Mirage as well.
Except for Anča Award, there will be a new category called Music Video. Animation Karaoke Battle remains a special category, which aim is to accompany the selected animated film by any creative means.
Fest Anča visitors can have a first-hand experience of how animated film is made. By means of interactive workshops, they will have a chance to learn about classic animated or painted production, 3D animation, iPhone applications, or work with actor in animated film. Czech music band Kazety and Slovak project The Autumnist will show up, too. An Oscar-nominated film for children Gruffalo will be screened and dubbed live by Slovak musician Stroon.
Festival pass in presale: 20,00 / 17,00 € (adults / students) via www.tixy.sk