Trans Europe Halles is shifting gears on the meeting in Estonia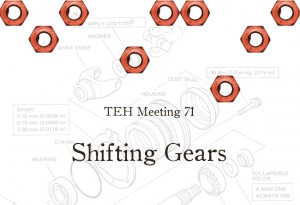 Greetings to everybody from Tartu, Estonia, where our representation from Stanica (Marek, Peter, Katka) is taking part on the Trans Europe Halles network meeting (TEH). The program of the meeting includes workshops on the theme "Shifting Gears", devoted to cultural workers and independent cultural centres. We have discussed visions, dreams and goals, both personal and translated into cultural actions and future of independent culture in Europe. Why we are doing it? How are our personal passions and commitment translated in our cultural centres? What is the plan to achieve in our centres in the next 3 years? The discussions brought a lot of general strategies that are common for all of us as well as a lot of concrete ideas and original activities that are inspiring and recommended to follow.
A great opportunity for the network and its members is the new network project Engine Room Europe, recently awarded a €960.000 grant from the European Commission's Culture Programme.
 It is a three-year project focused on independent cultural workers and their creative processes. The main objective of the project is to increase the capacity and sustainability of independent culture in Europe.
The 12 co-organisers (and Stanica among them) will initiate a programme of actions including artistic productions, festivals, conferences, research, staff exchanges and a volunteer programme. An open source online archive will hold the memory of the project and collect views, experiences and processes.
You can find more information at www.teh.net.