Thanks to your votes Stanica won 7.000 € from O2 Think Big program. Thanks!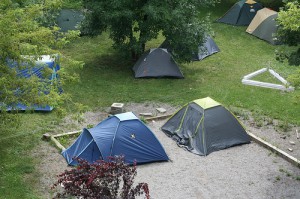 And we got nearly twice more votes than the second project in final - 1.020 votes. Thank you so much, your support is greater than the money that we will receive, it means we have community of people around Stanica. Telefónica O2 Slovakia in cooperation of Ekopolis Foundation opened this new grant program - Think Big. Mission of Think Big program is to motivate young people to create and realize their ideas and support their projects in the field of culture, sport, art, and environment. For public voting there were chosen 6 best projects by an Advisory Board, which member was the popular Slovak actress Zuzana Fialová. The second winning project is skate park by the Grind NGO in Zvolen, the third one is public space in front of Akropola cinema in Kremnica that we know from Antena, network for independent culture in Slovakia. Congratulations to them too!
Now a lot of work is in front of us to create the creative camping site in our park under Rondel bridge next to Stanica. To finish the S2 venue, to build new workshops from shipping containers, a fence around for security, public toilets and showers for summer festivals, new benches and waste bins, new space for legal graffiti and streetart, playground for kids, …maybe also a summer community kitchen and BBQ place, mini-futball or street basketball playground - your ideas are welcome. Discuss at our Facebook page, but the best is to contact us directly - write to info@stanica.sk or call +421907137145 (Marek Adamov) aand we will meet. For the realization we have time until the end of the year.
- -
The main characteristic of the O2 Think Big program is the participation of young people in preparation, planning, and realization of the projects. in public space. The participation of young people ensures that resulting place fulfills the ideas and needs of this community and will be actively used, young people, who are involved in every step of preparation, planning and creation will identify with its new face and usage. By means of this, there will be increased the number of people who will apperceive it as their own and will protect it , moreover there will be created new place, thanks to common planning and work there could be improved the relationships and fellowship among young people, among generations, young people and school, offices, institutions etc.
www.ekopolis.sk
www.o2thinkbig.sk
1 Comment