Empty monument on Polom at the end of Living Underground 6 workshop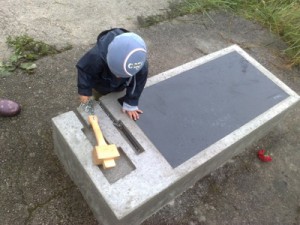 An empty memorial board from dark granit stone was inaugurated on Saturday August 28, 2010 on Polom mountain close the existing monument of 1st Czechoslovak Army Troupe from the WW2nd. There are tools to use and create your own message or memory. The site-specific art work is result of the workshop of architects and graphic designers Living Underground 6 taking place in Stanica August 2010.
The participants-authors of the workshop Living Underground 2010 were Martin Jančok, Ondrej Horváth, Braňo Matis, Katarína Gatialová, Ľubica Segečová, Anna Jablonowska, Silvia Lovasová, Peter Liška and Marcel Benčík.
More info and photos on workshop's blog (in Slovak only) at www.livingunderground.wordpress.com.