Ján Šimko: The Last Historical Mission of Young Generation
Theatre performance, opening night on February 5-6, 2010 in S2, Stanica Zilina-Zariecie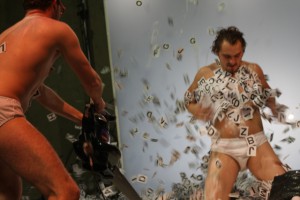 What happens when during a party you learn that somebody was beaten and the revolution has started? Sure, perestroika is on since four years, the regimes in Eastern Europe are falling one after another, first tourists are dismantling Berlin wall and in Czechoslovakia there is also something in the air. But this is politics and life is completely different. Stories of students that who stayed aside during the tense period.
"All the children know that we are pricks, honey / and you still think we are going to get well from that…/ But we are going to be an official culture/ tender rock revolution on the first pages of newspapers/ all the world will shit their pants and they will be pricks like us…/ And then we will sing just about love…" (Lues de Funes: (This is a) Love song)
Stanica uvádza: Posledná historická úloha mladej generácie (Ján Šimko) from stanica on Vimeo.
Dramaturgy and playwriting: Ján Šimko, Fedor Blaščák
Music: Matúš Homola
Set design and costumes: Jerguš Opršal
Cast: Marian Balážik, Juraj Igonda, Martin Melo
Directed by: Ján Šimko
The performance has been created in the framce of European project 68-89 Kunst.Zeit.Geschichte. Partners of the project have been Stanica Žilina-Záriečie, Archa Theatre Prague, Husa na provázku Theatre Brno, Sophiensaele Berlin and Kampnagel Hamburg. Many thanks for financial support to EU program Culture 2007-2013, Ministry of Culture of Slovakia, Central European Foundation, Slovnaft, City of Žilina and Intenda Foundation. Slovak co-producer of the performance is Studio 12.
More information and tour manager: Martina Filinová, martina@stanica.sk
Performances: Stanica, tour of an international project 68/89 Kunst.Zeit.Geschichte (Husa na provazku Brno/CZ, Archa Theatre Prague/CZ, Kampnagel Hamburg/DE, Sophiensaele Berlin/DE), Košice (Kasárne Kulturpark), Prešov (Akademický Prešov), Liptovský Mikuláš (Sumer Dance School), …
2 Comments
Trackbacks