2′ 16′′ and a half: Space odyssey contemporary opera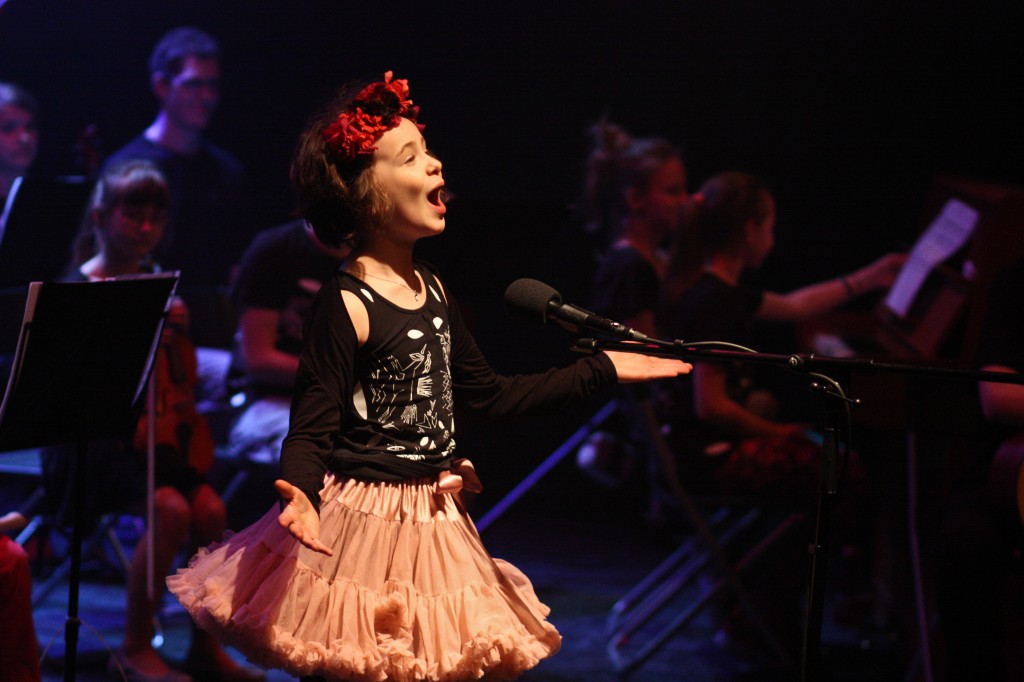 When working with a children's orchestra consisting of more than 20 children the biggest challenge is to achieve silence. In this sense to prepare John Cage's famous 4′ 33′′ is probably less accomplishable than to practice Bach's concerts on one side and Schönberg's dodecaphony on another side. However, a team around Mareka Piaček went for it; although with realistic and modest expectations – with the vision of a children's portion.
The contemporary opera was created as collaboration of children and professional musicians of the Slovak Philharmonic in Bratislava. It is an equal collaboration, children experience serious work within the orchestra and contemporary music in real life and professional musicians earnestly accept the game.
Main axes of the plot are silence and children's scary stories; sounds that accompany it are supposed to fill in gaps and moments between them. Occurrence of disharmonies, musical sludge and sediments is a natural phenomenon within the piece and there s nothing wrong about it.
Musical guide (in Slovak), how and what is the opera made of can be found HERE.
Composition and conductor: Marek Piaček
Director, dramaturgy, composition, script, scenography, training management and production: Ivana Rumanová, Barbora Uríková, Hana Hudcovičová Lukšů, Martu Hlavajová, Marek Piaček
Children cast: Ema Adamcová, Michal Bartošák, Gabriela Brezániová, Johanka Čierna, Matej Garčár, Nelli Horváthová, Terezka Kardošová, Carolina Knorst Da Silva, Nina Konáriková, Terezka Majdanová, Marína Majtánová, Simonka Mihalcová, Nelka Molnárová, Dorotka Ničíková, William John O'Brien, Šimon Papala, Natasha Sabolová, Alžbetka Sopčáková, Ema Starinská, Žofia Škvareková, Marcel Šimko, Martina Tinková, Tomáš Urík, Paulína Uríková, Mária Žideková,
Adult cast: Zuzana Kolenová, Jakub Urík, philharmonists: Cyril Šikula – flute, Karol Nitran – French horn, Marián Hrubý – violin
Sound recordings and video: Algis Kaveckis, Dušan Dobiaš
Technical cooperation: Daniel Kozlík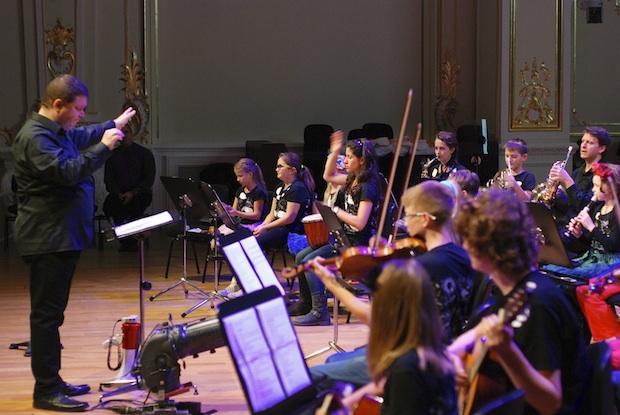 More photos HERE.
Premiere: 4. 5. 2014, Stanica Žilina-Záriečie
Other dates:
23. 5. 2014, Archa Theatre, Praha, Karaoke Europe Festival - Festival of Active Art
24. 5. 2014, Kabinet Můz, Brno, Festival Multiplace
25. 7. 2014, Stanica Žilina-Záriečie, Festival KioSK
28. and 29. 9. 2014, Staré divadlo Karola Spišáka in Nitra, Festival Divadelná Nitra
14. and 15. 11. 2014, Slovak Philharmonic, Bratislava
15. 5. 2015, Konvikt Theatre, Olomouc, Flora Theatre Festival 2015
17. 5. 2015, Palác Akropolis, Festival Žižkov sobě
6. 6. 2015, Stanica Žilina-Záriečie
12. 9. 2015, Brno Observatory and Planetarium, Festival Itch My Ha Ha Ha
13. 9. 2015, Johan Cultural Station, International Festival Theatre, Pilsen
Reviews:
"There is evidence that work has been done with the personalities of performing children who were involved in the composition. Saying jokes, a favourite folk song – everything is a part of universe and it finds its place in music too. Instead of "site specific" the result could be called "human specific". Work with musical quotes and their processing to own mosaic is characteristic for Marek Piaček, here he even added influences observed and collected during rehearsals – at least it seemed so. Consequently we could observe specific picture of an ideal of interpretation assurance which does what it is supposed to do, even has a reserve and is far from any struggle."
Boris Klepal, mestohudby.cz. The whole review (in Slovak) can be found HERE.
"…it was a funny and intellectually thrilling piece of art without the need to make an emotional trick by engaging cute child musicians."
Martina Mašlárová, Theatre magazine kød (8/2014)
A short document by Algis Kaveckis about making the opera can be found HERE.
The project was created within the international project Karaoke Europe and co-financed by the European Commission and the Ministry of Culture SR.