Jaro Viňarský & Lucia Kašiarová (SK): Hearts Like Wounded Birds
contemporary dance performance
A fragmentary story in movement set in space perspective deformed by light.
The first thing to be said about this performance is that it follows an idea (began in the performance The Last Step Before) that attempts to connect the light design with the movement and dance inside a theatre space. The lights and the dance create a tightly interconnected and unseparable unity. The resulting form is their mutual relationship of balance in which they come out, one from the other and supplement each other. One of the starting points of this work is deformation of the spatial perspective by the light which captures the bodies of the dancers, while, together, these two elements create a certain illusion of sensations. 
Secondly, the narrative of two bodies of the two people inside the broken fragments lacking any "mechanical" logic which usually directs our thinking, evaluation or identification with something/someone, thanks to which we define ourselves and establish our relationships with the surrounding world. It is not about a relationship between two people based on a concrete idea of it. These two - forever, rather like one and one is zero - meet in not-meeting. They do not analyse this, perhaps a strange anomaly. They do not ponder, ask questions, search for answers explaining the way in which they walk together. They just walk and suspect that it is ok that way.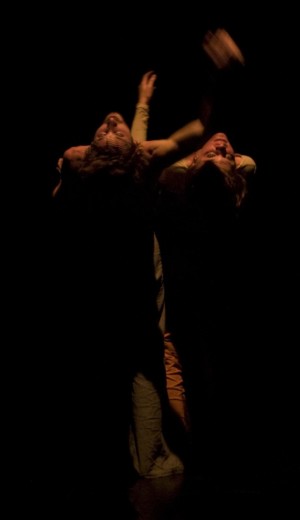 Slovak premiere: May 5 and 6, 2007, Stanica Zilina-Zariecie
Story, choreography, dancing: Lucia Kasiarova and Jaro Vinarsky
Light design: Pavel Kotlik
Music: God Speed You! Black Emperor / Mix hudby: Jo!
Performance was created under the patronage of ALT@RT o.s., in co-production with Stanica Zilina-Zariecie and Divadlo Ponec.