"Give me a hard time" interview with Nienke, our Dutch volunteer
Since January, you can meet a new volunteer in Stanica. Her name is Nienke, she is our first Dutch EVS volunteer ever and she is going to stay with us until the end of November. What she is up to and how she feels in Žilina, you can read in an interview we made with her last week.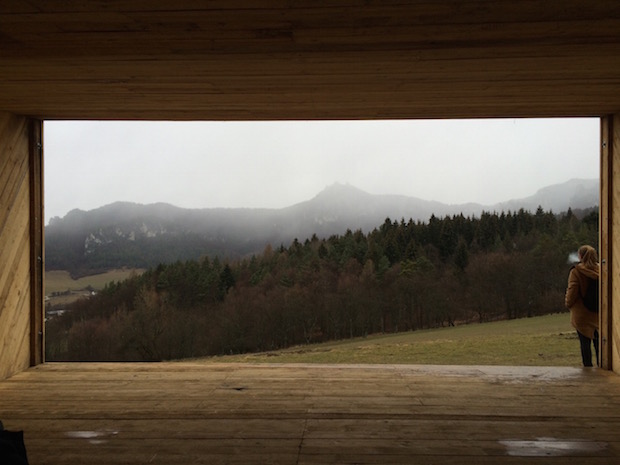 Which questions are people asking you the most often?
Why I am here in Slovakia and in this venue.
It is a good question. Sometimes people are asking me this with a surprise in their face - "Why SLOVAKIA?". For me, this is the most interesting part about doing a volunteer work abroad because you can let people see what the value of their country is. For me the Netherlands became quite a boring country. Because I know it too well. And people are surprised why I chose Slovakia and they think The Netherlands is so much better place to be.
So for me, it's interesting to experience a country which is quite different from where I am from. And if they ask why I am doing voluntary work in Stanica - I think it is not because it's in Slovakia but more because the venue is really interesting with many possible activities and the way it works. And it's really opened. Of course, I didn't know Stanica before but now, I can say it's really a good place for volunteers to try things out and get experienced in lot of different fields of cultural venues.
But it's not for everybody, right?
No, I think you have to be fitting in this way of working. It's not 9-5 job and it's not so much structured. So if you really need a structure and you need everything worked out, then it's not maybe the best place for you.
What were your expectations when you were coming here?
I came here with an idea that I would be interested in children workshops because one of my goals was to be more experienced in this. But for some reasons, many other things came to me and I was more attracted to the background - how the venue is organized and what comes with it. So I must say I didn't know that I was interested in more wider aspect. It's still for me a good way how to experience this venue - working with the technicians, in the office, behind the scene. So many people doing so many little things - something you only know if you are inside. Behind the scene.
I think this is also what all the visitors here don't experience and know - what is all behind the workshops or concerts - how much work and energy is put in it.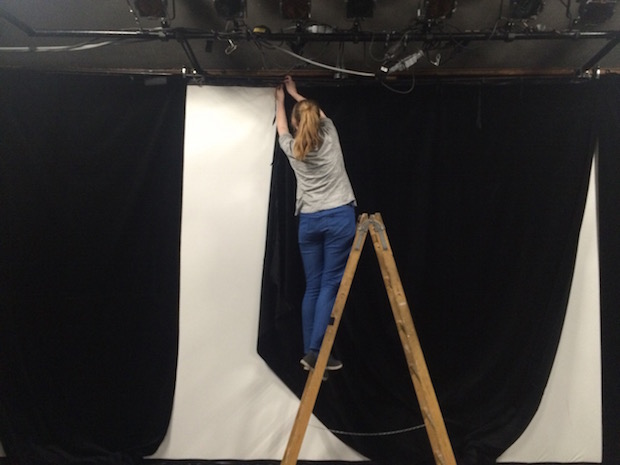 What's the most visible difference between Slovakia and The Netherlands?
I think the infrastructure. How the city looks like. It's something I haven't seen before in Holland. For example, the quality of roads. Because cycling is normal for me, you can cycle anywhere. Here you are not really noticed when you want to cross the street. You are like a down-group of the society if you are riding a bicycle. And certain places are really messy - garbage on the street and so on.
What about mentality of the people?
I don 't speak Slovak so good, so I notice quite often that people are really shy or they don't speak English. So this is also quite different because in Holland you can speak English almost everywhere. And I must say the social life here is in another level because a lot more people go to bars to have social activity. For us in Holland, we usually meet at someone's home.
I have also noticed that in the streets or in the supermarkets, there is not a lot of happiness to see on people's faces. But for example here in Stanica, it's really something different. Here everyone is in a comfort zone.
What do you do or want to do here?
I am still looking through the space that fits me and what I can leave behind in the end. I would like to make or design something physical, something that lasts. Some kind of a heritage.
On one hand, I will take a lot of stuff with me home - knowledge, experience, etc and on the other hand, I would like to have something what will stay here.
I think I will try to focus more on how this place works - structure and how you can organize it - physically but also mentally. And that should be something what will remain and continue even after I leave. It's still not concrete. But in general, I hope I can give something back.
What's your favourite type of event in Stanica?
Can I say a party? :D
But seriously - I really enjoy evening which starts with a concert with all the light show, (always the smoke machine :) and really good atmosphere in hall S1. Then the social behaving starts (drinking beer or something else) and I really enjoy that it is really a growing dynamic thing which goes naturally. Not that someone says "Talking is over, put the chairs on the side, now it's the party" - but instead natural going like drinking a beer, music goes a little bit higher and then someone starts dancing and then at some point you realize "Oh my god - this is a good party!" I really like this natural going on.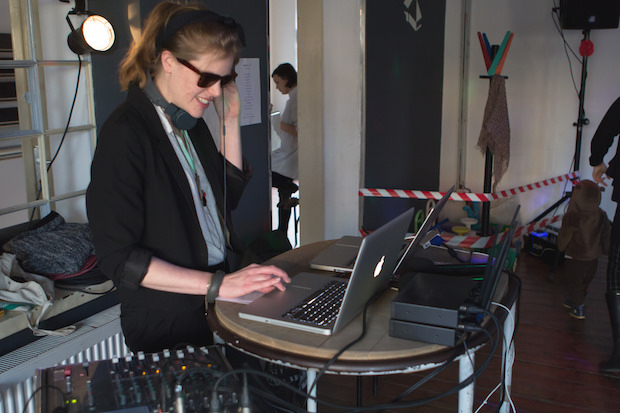 What I also really enjoy is the vision of the educational workshops. For example this musical instrument making workshop has bigger point of view. Not just like - we have to entertain the kids, they will make something and that's it. There is an idea behind it, for example to make an opera or music. It's really good that you have a long-term vision. There is more behind it.
I even like selling tickets.
Yeah? Why?
For me, it's always challenging for me to speak Slovak. It's interesting to see how people act. It's like a game that you can speak a bit Slovak and they have to speak slowly. Or some people switch to English but some people can't. And you have to manage a way to understand each other. It's just a simple thing. But I like that people starting to recognize me. And next time they come, they start to speak English to me and then for me it's like "You don't have to but it is still nice" :)
So would you prefer that even if people know you don't speak Slovak, that they would try to force you to speak Slovak?
For me, it's better if they just speak Slovak - slowly and clearly… but a lot of words I just don't know, then we will need some creativity.
So rather than switching to English immediately, you wish people helped you practice Slovak more..?
Yeah, give me a hard time! Give me a challenge. I think that's the reason I came here. I want to challenge myself and learn new stuff. So of course - if you want to have a nice conversation, it's better for me in English. But I should manage a small talk in Slovak.
But in general I really think it's surprising how good it is going with me here. I didn't have homesick feelings or troubles with people here. Of course, I am a nice person so I will not have fights a lot :) But still you can have some people with who you just don't click with and you have to work with. But no, I really feel lucky here.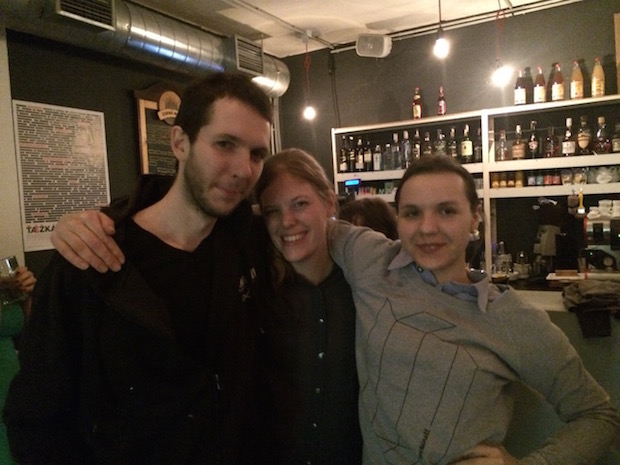 What are you working on these days?At the moment, I am working on a bike repair shop (Recykel), I am organizing the tools and spare parts there. I am also really hard working on Born to be Wild carnival. I am really looking forward to have this party with lot of volunteers but also people who can meet them here in the bar. But whoever can come - it's also an introduction of foreign volunteers in Slovakia, so people can meet them and talk to them. Because a lot of people maybe don't know I am a volunteer here from the Netherlands because they have never talked to me. I will not have a big sign on my head that says "I am a volunteer" but somehow I will be here and people can have a beer and a chat with me and they can still ask me why I am here. My answer will be - "Because of the party!" :D
And I am thinking about how to make a better trash separation system for Stanica, especially for big events in summer.
—-
Nienke is doing her volunteering in Stanica thanks to the mobility project European Voluntary Service that is financially supported by the European Commission within Erasmus+ programme.