Debris Company: Soliloquy & Monologue
dance-theatre show
Saturday 15. 2. 2014, 7.00pm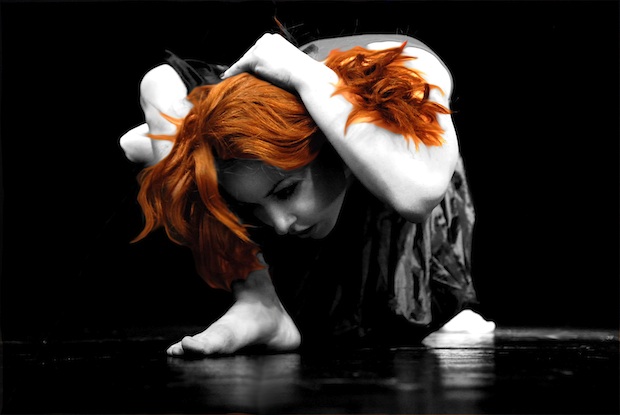 Dance - theatre show as a tribute to James Joyce. Adaptation of the final chapter his famous novel Ulysses. Two solos, female and male monologue of two main characters, Molly Bloom and her husband Leopold Bloom, starring Stanislava Vlčeková and actor Vladimír Zboroň, under direction of Jozef Vlk.
First part, physical - dance solo of Stanislava Vlčeková, is a compilation of thoughts of concert singer - wife of advertising agent Leopold Bloom. Cult novel Ulysses became famous for its revolutionary method of implemeting "stream of unconsciosness" into the literature world wherein the final monologue is without punctuation.
Free stream of feelings, thoughts, fragments of memory and fantasy mixed with insights into the real world does not mean descriptive process for the creators. "Literature effect" as an archetype becomes their inspiration on the journey to respecting blank walls in an imaginery book, crossed sentences, never sung musical passages coming instead of words. The stage becomes unwritten page of Joyce' novel while still respecting symblic values and relations connected to Molly Bloom's character in the final chapter and with Joyce' writing on the edge between consciousness and subconsciousness. Soliloquy is a rhytmical and ritual manifest to a new period which surrounds us.
The creators' main focus is lying on the fascination by Molly's female substance and her "gnawing dream" or reflections in state before sleep, in the middle of everyday reality, similar to any other day or night, wherever on the world around us. It is screening the subconsciousness and reality of days full of small cataclysms, dissappointments, envys and smallness.
On the other hand, the creators got attracted by an idea of unfolding or balancing feminin world of Molly Bloom and next to soliloquy, they placed male monologue. In the second part, you can listen to Vlado Zboroň playing role of Bloom, husband of Molly. This monologue is fictional, it was made as a negative of soliloquy Molly and as the original piece - without punctuation.
Choreography: Stanislava Vlčeková
Concept and direction: Jozef Vlk
Visual concept: Martin Piterka
Costumes: Marija Havran, Katarína Holková
Music: Jozef Vlk
Music performed by: Zwiebel String Quartett
Light design: Jozef Vlk
Performing: Stanislava Vlčeková, Vladimír Zboroň
Admission: 5.00 / 3.00 € (adults / students)
Ticket reservations: rezervacie@stanica.sk, +421 948 344 606
Please, come to take your reserved tickets at furthest 15 minutes before start of the event, otherwise they will be sold. Thanks for understanding.