Farm in the Cave: Waiting Room
theatre performance
Friday 15. 11., 6pm and 8pm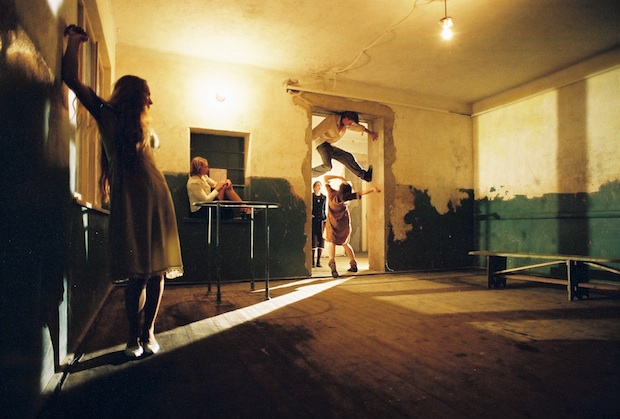 The memory versus presente of the place – train station Žilina-Záriečie which used for deportation of the Jews from Slovak state during WW2. In the waiting room, random passengers are meeting and unrandom dead are coming back. In a trivial triangle, there is a meridian of private violence evoking unhealed historical trauma from which silente nationalism keeps growing out. We are on the place of conscience of Central Europe, where we are meeting the ghosts of those who we didn't say goodbye.
The theatre piece was originally made 10 years ago at Stanica Žilina-Záriečie. We are introducing it for the very first time, within Memory kontrol project, thanks to the support of International Visegrad Fund, Intenda Foundation and Czech centre in Bratislava.
In 2007, Waiting Room was awarded as the Strongest Dance Performance by Respekt magazine.
Director, Viliam Dočolomanský, was awarded Winner of the XII Europe Prize Theatrical Realities in 2011. The perfomance is executed by the members of international group Farm in the Cave and Charlotta Öfverholm a.h.
Entry: 13.00 / 8.00 € (adults / students)
Ticket reservations: rezervacie@stanica.sk, +421 500 50 64