Pódium #5: Art and liberation
exhibition and symposium
Saturday 8. 6. 2013, 11.00 – 20.00, New Synagogue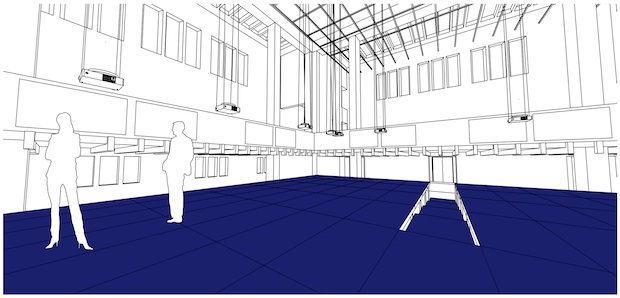 Art and liberation II: Ornaments in masses
OSTV/ESTFEST, organized by forum experimentelle architektur wien
Corresponding cities: Žilina and Gorizia (IT)
Since its founding in 2004, forum experimentelle architektur wien organizes series of events called OSTV/ESTFEST (East West Festival) where cultures are mixed regardless of former geopolitical division of Europe. Art and liberation is part of this festival. This event represents continuation of extensive exhibition Art and dictatorship which was held in the Vienna Künstlerhaus (Künstlerhaus Wien) in 1994. Art and liberation has the form of scientific – artistic installation with 13 to 18 slide projectors with carefully picked selections of 80 diapositive images in one container. Individual sets of diapositive images illustrate the research about how art, architecture, literature and music respond to cultural and geopolitical changes and whether they alone can initiate such changes. The period of time between 1943 (battle of Stalingrad) and 1967 (one year before 1968) was set as the time frame. Unknown aspects are placed under spotlight and known aspects are interpreted in new and unusual ways. Examined phenomena are constantly seen in opposites and dialectically compared against each other. The comparative approach will be also applied to cities where the exhibition will take place.
The current model will connect and compare Slovak Žilina with both Italian and Slovenian city Gorizia / Nova Goricja. The exhibition installation will be accompanied with the symposium with intensive sequence of unconventional lectures. The symposium has the form of celebration for all senses and will also consist of lectures, debates, eating and drinking.
Lecturers:
David Pinter/Lucie Geffray
Susanne Winkler
Otto Brusatti
Abbe Libansky
Jan Tabor
Anna Soucek
Peter Bogner
Kari Bauer
Petra Hlaváčková
Nicole Sabella, Janine Maria Schneider, Dorothea Zeyringer
and others.
Admission free (voluntary); all proceeds will be donated to the reconstruction of the New Synagogue.