Fest Anča 2013
international animation festival
Thursday - Sunday, 27. – 30. 6. 2013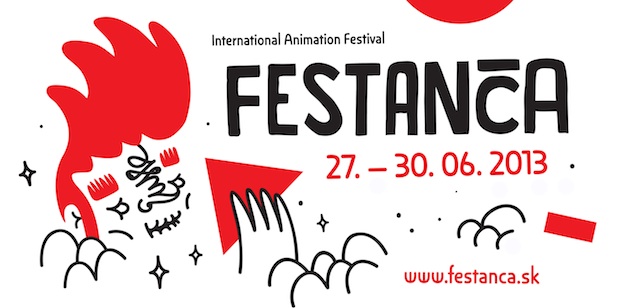 Žilina will again become "mecca" of animation. From 27. to 30. June 2013 we will celebrate the beginning of the holiday season in the company of great animations, animators, musicians and other interesting people on International animation festival Fest Anča.
Traditionally, main events will run on Stanica, where visitors can spread their tents on the place nearby projections, workshops, concerts, Animation Karaoke Battle and mostly all of the multimedia program.
From the archive this time Fest Anča has selected films from master of Slovak animation world Viktor Kubal, for example, Zbojník Jurko or drama Bloody lady, which is based on the legend about Bátoryčka. On Stanica you will have opportunity to see all the competition films.
Beside the excellent animations you will be able to enjoy also in performances of charming Čokovoko, legendary raper Vec or master of sound minimals Karaoke Tundra. Behind the turntables, beats will be broken by Emo Noiz Boys and Palo Čejka alias DJ Reverend.
Featured films will be screened also in Ster Century Cinemas. Dark full-lenght comedy It´s Such a Beautiful Day of cult animator Don Hertzfeldt, who was nominated for Oscar. Another great featured film is Arrugas from Ignacio Ferreras, filmed by the same titled comic Paco Roca. We cannot forget about unique film of Chris Sullivan Consuming Spirits, which was created for 15 years.
Definitely is worth to mention very interesting guests, which you can meet on Stanica and also on the lectures in the city theater. For example, Czech artist, screenwriter and director Michaela Pavlátová, who was with film Řeči, řeči, řeči nominated for Oscar, meanwhile Repete brought her Golden bear. Paul Mumford will talk about experimental creation of the live animation. Cherry on the top of the cream will be personal participation of producer and screenwriter of The Simpsons, Mike Reiss, who will present his famous show Simpsons Backstage Tour.
Detailed program you can find on the festivals' official webpage www.festanca.sk.
Permanent ticket in the presale: 18,00 / 10,00 € (adults / students)
Permanent ticket on the place: 22,00 / 14,00 € (adults / students)
Permanent ticket for students of the animation: 10,00 €
* with valid student card or index about attendance
One day tickets: 8,00 €, evening tickets from 20.00: 5,00 €, noon and Sunday tickets: 2,00 €
One day family tickets: 18,00 € (2 adults and a lot of children)
*every day with old permanent ticket 50 % disscount
Children till 7 years, seniors and disabled* for free
*disabled – mandatory escort has to show a valid ID card
Visitors, who purchased the permanent ticket (one day or for whole festival), have the opportunity to use the tent space in the camp of Stanica.
Presale: ticketportal.sk