Longital – Music Acoustics Tour
concert
Friday 19. 4. 2013, 8 pm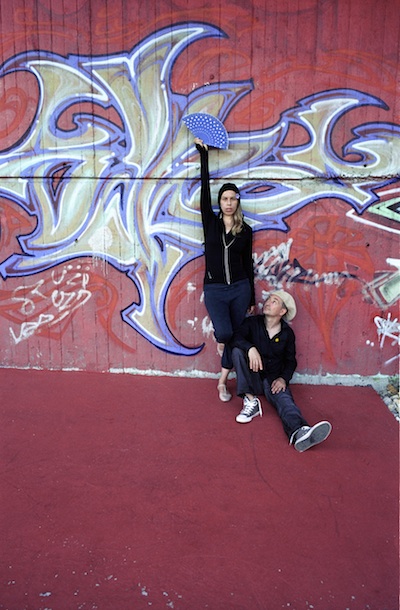 Bratislava music duo Shina and Daniel Salontay in their music project Longital are mainly focussed now on non-traditional songs and electronics. This concert program Music Acoustic Tour 2013 is a new acoustic program.
Longital creates pulsing energetic music full of dynamic twists. Song's texts intervene in the deepest places of the human soul and tell about it's wandering around the world. Female and male vocals intertwine, for a while read together, then split again, guitar moves in all possible positions from minimalist gurdy to sophisticated jazz improvisation, to this must be added a nice sound of guitar and bass strokes, and especially this is touching completely the lowermost sonic depth. In the new program appears sound of vibraphone and piano performed byStroon. Behind the band on the big screen will be presented a remarkable colorful story by VJ K_freak.
The band Longital is already thirteen years beyond the boundaries of musical genres on the Slovak musical space. They played hundreds of gigs in clubs and at the festivals in 12 countries in Europe, the U.S. and Canada. In 2013 the group is going to compose music to the animated film Snow directed by Ivana Šebestová, collaborate with William Klimáček for the musical Bubbles in Concrete for Elle Danse Dance Theater, run the current acoustic tour called Music Acoustic Tour 2013 and in fall start their first Asian tour.
Longital has on its credit nine albums and two music awards. In addition to concerts and albums Longital is invited for musical collaborations on the original works for films and stage performances in Сzech Republic (Continuo Theatre) and Slovakia (Gunagu Theater, Dance Studio).
Guests and collaborators
To Longital has recently joined a special guest Stroon, whose real name is Dalibor Kocian, he plays the vibraphone, prepared piano and percussion. Stroon is a young artist active in contemporary music project in Cluster Ensemble. It is also the author of two progressive electronic albums and hosted musician in Puding Pani Elvisovej band. In the program Longital Music Acoustics he appears as sensitive teammate focussed on minimalism, jazz and contemporary classical music.
VJ K_freak, real name Martin Piterka, works on visual perception of the music as a live projection on a large screen placed behind the stage and the objects on the stage (in Stanica also on the white grand piano). Archival footage of Longital trips are processed to an interactive live images supporting imaginative music of the band.
Entry in advance: 6,00 / 4,00 € (adults / students)
Entry in the venue: 7,00 / 5,00 €
Ticket reservation: rezervacie@stanica.sk, 041 - 56 23 564