Dreams of Periphery – film in Žilina
screening, discussion
Thursday 11. 10. 2012, 7pm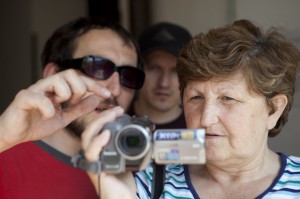 Is Žilina periphery for creators? If so, is periphery, its themes and possibilities a paradise for independant or commercial production? Analysing evening with films and guests will guide us from the beginning of Žilina professional cinematography, the golden age up to present diversity of creators, approaches and technologies.
Author film projection will be connected with discussion of Marian Prievoznik (former director of Dom odborov), Peter Pikna (Explózia Chuti film group), Peter Gartner (Film Club Bytča) and Peter Šimko (Považské múzeum Žilina - section of film collection). The debate will be moderated by Martin Krištof.
Entry: 3.00 / 2.00 € (adults / students)