(Re)think architecture:
Modern and totalitarian in Žilina 20th century architecture
symposium, Wednesday 25. 10. 2012
Nová synagóga and Žilina municipality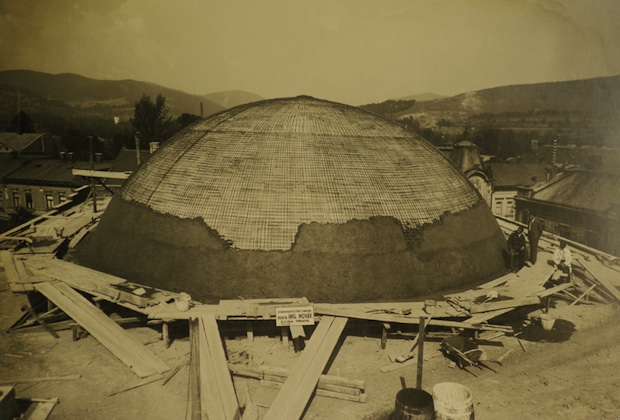 Ongoing reconstruction of Behren's synagogue is an opportunity for scientific seminar organized by Department of Architecture ÚSTARCH SAV. The restorers, architects, historians and theoretists will meet in Žilina for a day to discuss issues of renewal of the modern architecture and Žilina synagogue as its perfect example.
Magdaléna Kvasnicová will present results of the architectural research and Peter Szalay, Ivan Pilný and Ján Hromada will show results of restoring exploration. Vladimír Majtán will deliver presentation on behalf of the Monuments Board of Žilina and architecture Martin Jančok will introduce the reconstruction project. The discussion moderated by Henrieta Moravčíková (do.co.mo.mo.) will contain more experts from the field of reconstructing interwar architecture from Czech and Slovak republic – Matúš Dulla (FA ČVUT Praha), Viera Dlháňová (SNG Bratislava, Iveta Černá (vila Tugendhat), Miloš Dudáš (KPÚ Žilina), Ján Krcho (TU Košice), and others.
ÚSTARCH SAV will present second project - ATRIUM – Totalitarian regimes' architecture in urban planning. It is a pilot project which attempts to bring focus of the public onto the heritage of key periods of European history of 20th century. Its final goal is to establish an international cultural route from the Southeastern Europe that would be certified as European Cultural Route. Such certification and recognition would allow to revaluate this heritage and stimulate its use, at once. The building of Žilina City Theatre is such examle.
Lectures and discussions at Žilina Municipality (2pm - 6pm), as well as commented guide through Nová synagóga (11.30am - 12.30pm) containing presentation of the model of reconstruction by Martin Jančok, are opened to public and free to enter.