Silkscreen at home
workshop
Friday - Sunday, December 16-18, 2011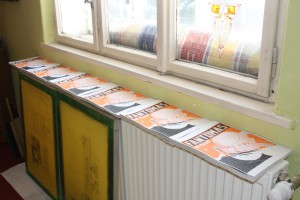 Three-day intensive silkscreen workshop, where you´ll find out, that DIY silkscreen is not that hard to make on your own, at your home. We´ll introduce you to our simple workroom established in Stanica, and we´ll show you many simple tricks, and ways, how to do it. But at first: we´ll print! This time, we will focus on textile printings – so bring your T-shirts, shirts, napkins, underwear and towels with you. Suitable for beginners, and advanced silkscreeners from the age of 15 and higher.
The workshop will start on Friday at 5pm.
Subscription for the whole workshop is 10,00 €.
Leader of the workshop: Martin Krkošek (Cz)
Info and applications: mjk@cmail.cz or hanka@stanica.sk, +421 (0)907 178 756 (Hanka)