The Volunteer and Stanica
2012 - European Year of Volunteering finished a good time ago but we can't imagine Stanica without volunteers 20 years more. Same as now, everyone who believed in common idea and devoted time and energy were very important in the early beginnings. Voluntarily, without any vision of salary and maybe even without clear image of the result, driven by strong belief of something great and worthwhile to cooperate. This is how the community which fuels Stanica with energy from its first day was born.
Hundreds of volunteers worked thousands of hours reconstructing the building, recultivating the park, renewing the back yard, constructing S2.
However, it is necessary to mention and emphasize also massive amount of invisible work that is being done daily in many ways and which makes Stanica running as it is today. Distributing posters, selling tickets, communicating with guests, photo and video documentation, archiving, technical assistance, glass recollecting, webmastering, etc.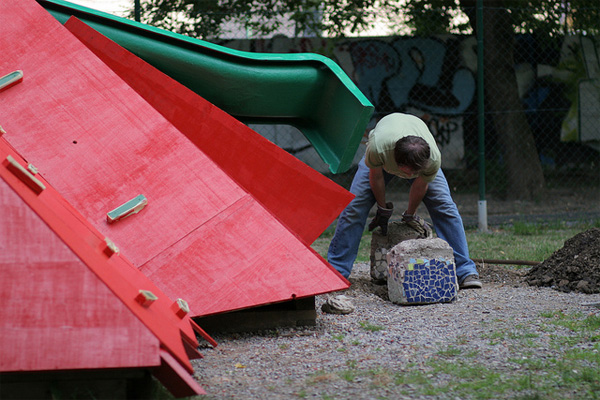 Foreign volunteers deservers a special chapter. They are coming (usually) for 12 months stay within European Voluntary Service programme. Besides everyday practical tasks, each EVS volunteer has an opportunity to develop his own project that he plans and realizes. Some organizes an exhibition, a workshop or a small concert, other takes care of the garden - it is always up to individual interest and desire of the volunteer. Sometimes you can read more about them in articles they write and or course, you can personally meet them every day in Stanica and have a chat with them.
If someone would object that volunteering means working for free, we have to disagree. The volunteer does not get money, true. But his salary is experience and skills he gains during the work. The motivation is not material based. People help because they believe it makes sense and during this process, they grow professionally and personally. They collect unique practice and contacts in the environment wherein they might find their meaning of life in the future. Voluntarism is a methodology.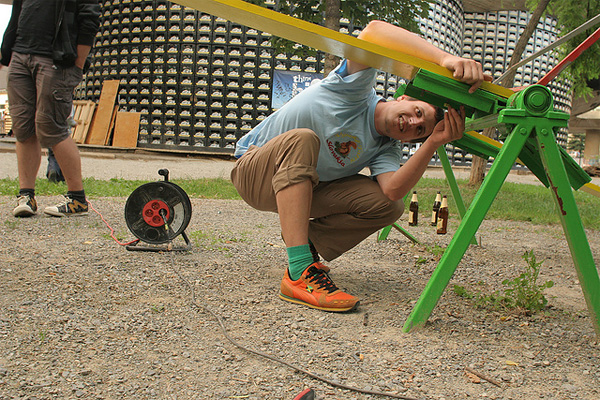 Stanica offers several living examples of how a volunteer became a crew member. During four years, Dušan transformed from occasional customer of the bar into photographer, webmaster, bartender and workshop lecturer. Or Daniel, our newest technician and light designer, used to come only as a visitor just some time ago.
If the volunteer proves his (cap)abilities (and that does happen in private business as well, not only in NGOs), new possibilities he never dreamt about are opening for him. And this is one of the reasons why people should not be afraid of doing "just like that". The voluntarism is not a charity like some people might think.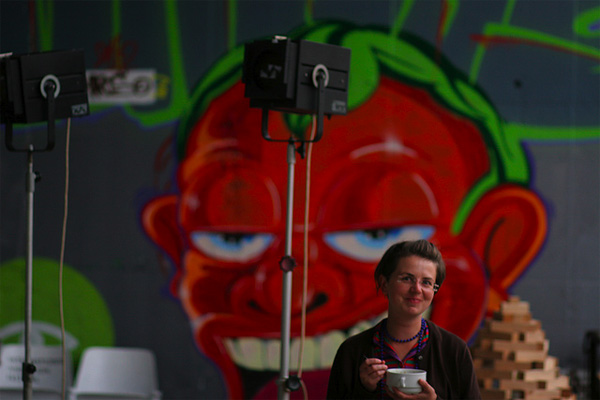 Currently, typical volunteer is a young person, very often a student. However, the demographic curve is proving that there will be still more and more old people who will be perfect candidates for the volunteers. Why? Because they have longlife practical experience, desire to forward their knowledge to young generation, they have time and no more ambitions for job promotion. They probably achieved it already. This will probably not affect our grandparents yet but we will quite likely enjoy a lot of volunteering in our retirement. Why not. It would only confirm and old "volunteer saying" Once volunteer, forever volunteer.
General awareness of volunteering in Slovakia is fortunately increasing. Our government passed Volunteering Law which defines who is the volunteer and what he does. Even this particular law is far from being perfect, it is definitelly big step in our legislation, opening new possibilities for volunteering. For example, employees of private companies (like KIA Motors) can do one-day voluntary work for our NGO thanks to this.
If you want to join and help us improve something you miss at Stanica, you are warmly welcome to contact us.