Delta – independent audio-visual arts festival
presentation, projection
Tuesday, November 29, 2011, 7pm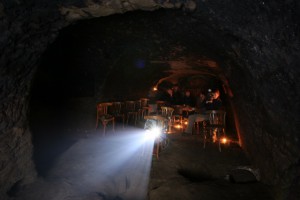 International experimental film and videoarts festival Delta deals with video/film language, research of visual expressions, and public presentation. It´s a subprogram to the project of Arteskorta, a platform focusing on various interdisciplinary activities, cultural events in public space (art presentations, film festivals, live performances, cultural activism, seminares, lectures etc.) Realised by civic association Arttoday. Besides experimental film projections, the festival gives space also to videodocumentations of artistic events, performances, videoinstallations etc. the projections happen at various geographical and social corners of Slovakia, in places, primarily unintended to use as a cultural places and in places representing independent contemporary art and culture happenings. The viewers will be offered to see a variety of independent audio-visual production, films, videos, which cannot be seen anywhere else.
Delta festival is supported by The Ministry of Culture of the Slovak Republic.
The presentation in Slovak only.
Admission: 2,00 / 1,00 € (adults / students)