Peter Šavel, Juliane von Crailsheim (Sk, Be):
Could we flie together
motion workshop
Friday - Sunday, 5th - 7th August 2011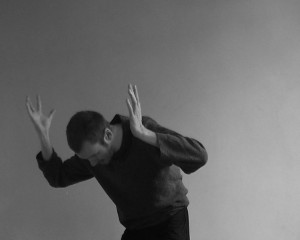 Peter Šavel and Juliane von Crailsheim (Be) form artistic tandem within BodyTalker collective. Dancer and choreographer, director and actor, together with two different backgrounds and attainments, they are searching for expressive universal body language. During two weeks in Žilina, they will carry on the creative process on their new solo called "Could we flie together". This work is focused on the counterpart present in each individual - conflict between biological and social body.
The workshop is a part of research of this topic. Inspiring with Body-Mind Centering (BMC) technique dedicated to exploration of biological, built-in movement patterns and those who are taught during upbringing, education and social integration, Peter and Juliane offer the quest for widening of motion possibilities and understanding of our body.
What can my body reach what I simply do not use? Sensitivity, reception, free motion without prejudices, interconnection of motion, using knowledge and experience in motion, physical structure. Workshop formed of physical practice and creative approaches.
Age limit: 16 - 40 years; opened for amateurs, as well as for dancers with various experience
Info and booking: peterko3s@gmail.com
Participation fee: 12.00 / 8.00 € (adults / students)