One World Festival films:
I wanna be Boss
Documentary
Tuesday, April 12, 2011, 7pm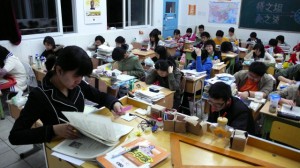 The main characters in film "The smartest children of China" are five students who are in the last year of secondary school based in the Chinese city of Conking. It is the year, in which their future is at stake. Will they succeed in being accepted at one of the most prestigious universities in the country, in Beijing? Only the best ones can make it. That is why the students in Conking start school at seven in the morning and finish at eleven in the evening – every day including Saturday. Them, as well as their parent know very well that their study results are the only chance for better life.
I wanna be Boss - Marije Meerman / Netherlands / 2008 / 58 min. / Czech subtitles
Entry: 2,00 / 1,00 € (adults / students)