One World in Stanica - films in English and trailers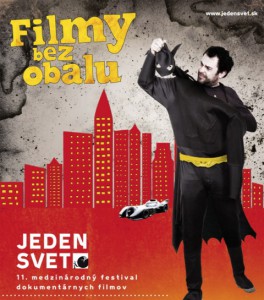 There were several requests from your side with the question, which films from the program of One World documentary film festival that will take place in Stanica from Wednesday 26th until Sunday 30th January 2011 are friendly to foreigners = in English or with English subtitles. So here they are together with trailers. You are welcome on:
No Penguin's Land / CH / 2009 / without words / Wednesday 26. 1. 2011 at 18.00:

No Penguin's Land (extrait)
Uploaded by RegionIledefrance. - Classic TV and last night's shows, online.
Tapped / CAN, USA / 2009 / in English / Wednesday 26. 1. 2011 at 18.00:

Keeper of the Wilderness / SK / 2010 / English subtitles / Wednesday 26. 1. 2011 at 20.00:

Stolen / Algeria, USA / 2009 / English subtitles, Thursday 27. 1. 2011 at 16.00:

Protected Teritory / SK / 2010 / English subtitles / Thursday 27. 1. 2011 at 20.00:
Trailer at Moviemania.sk
Men of the City / UK / 2009 / in English / Friday 28. 1. 2011 at 17.00:

Moon inside You / SK, F, ES / 2009 / main part in English / Friday 28. 1. 2011 at 18.30:

White Terror / CH, F, DE / 2005 / English subtitles / Saturday 29. 1. 2011 at 15.00:

The End of the Line / UK / 2009 / in English / Sunday 30. 1. 2011 at 16.30: