One World – Films without cover
International documentary film festival
Wednesday – Sunday, January 26.-30, 2011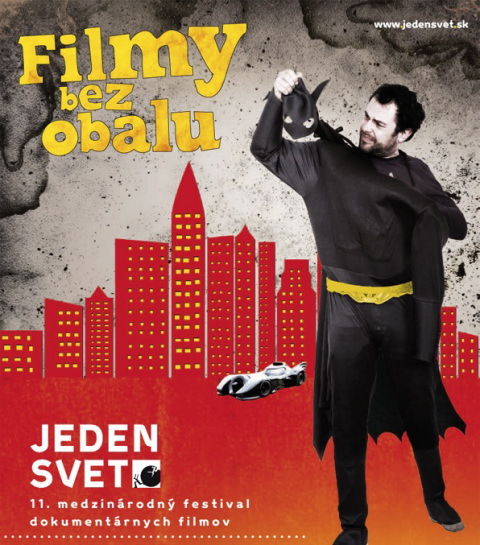 This year's documentary film festival presents films without a cover, heroes without masks. Heroes in its films are made of flesh and bones, and so they are very vulnerable – they are not protected by make-up, nor silicones, nor trojans. In documentaries about human rights, global problems, ecology and clash of cultures, they tell true stories. After seeing them, you will no longer feel as having seen covers.
Festival in Žilina presents a selection of more than twenty films from festival in Bratislava and Prague, with extra screenings featuring directors, discussions and lectures on festival topics.
Trailers of the movies >> here.
26. 1., Wednesday
from 15:00 Mobility - Klaus Reno / AT - English
18.00 Tapped - Stephanie Soechtig / Canada, USA / 2009 / 75 min. / English
+ No Penguin's Land - Marcel Barelli / Switzerland / 2009 / 9 min. - no language
20.00 Keep of the Wilderness - Robert Rajchl, Erik Baláž / Slovakia / 2010 / 52 min. Slovak with English subtitles
27. 1., Thursday
16:00 Stolen - Violeta Ayala , Dan Fallshaw / Algeria, USA / 2009 / 78 min. / English subtitles
20.00 Protected Territory - Adam Hanuljak / Slovakia, 2010, 84 min.
 - Slovak with English subtitles
28. 1., Friday
17:00 Men of the City - Marc Isaacs / UK / 2009 / 58 min. - English with Czech subtitles
18:30 Moon Inside You - Diana Fabiánová / Slovakia, France, Spain / 2009 / 75 min. - mostly in English
29. 1., Saturday
15.00 White Terror - Daniel Schweizer / Switzerland, France, Germany / 2005 / 90 min. / English subtitles
21:00 Videocracy - Erik Gandini / Denmark, Finland, Sweden, UK / 2009 / 85min. - Italian and English with Czech subtitles
30. 1., Sunday
16:30 The End of the Line - Rupert Murray / UK / 2009 / 83 min. / English with Czech subtitles
Admission:
Festival pass: 10,00 / 7,00 € (adults / students)
Advance sale: 8,00 / 5,00 €
One section: 1,50 €
Advance sale: rezervacie@stanica.sk, 041 - 56 23 564