Pecha Kucha Night Žilina – Volume 13
Friday, December 17, 2010, 8.20pm
Xmas cabbage soup party from 5.00pm!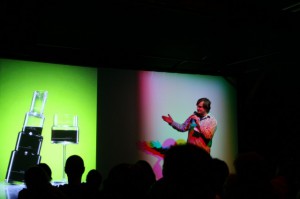 Happy 13th (this year's fourth) Pecha Kucha Night in Žilina starts at 5pm with cabbage soup and continues at 8.20pm with the series of presentations by interesting people from various spheres in a dynamic "20 pictures x 20 seconds" format. Confirmed are all the guests: Katarína Trnovská and Tomáš Žáček, authors of book VLNA 68-84 about young Slovak architects, well-known cello player and Kovergencie festival organizer Jozef Lupták, and organizer of Labyrint and Áčko centres Zuzana Burianová. Architects will be represented by Katka Boháčová and Martin Berežný from studio re:mix architects and Michal Diviš from Žilina, artists by Ašot Haas and outdoor gallery project (Nina Šošková and Dano Dida). There is also Dagmar Gurova from Nota bene streetpaper, philosopher Fedor Blaščák (Memory Kontrol) and Elektrón Dušan Škulavík, who installs audio-systems into cars. Another honored guest will be Jana Burianová, director of Czech Centre in Bratislava presenting the Literature Night project. We will have presentations of activities of NGO Návrat in Žilina working with new families for abandoned children, cult women-cooks Šrámek Sisters and zoologist Laco Hlôška from Považské Museum. Nice mix will supported by music of Djs Puppesh and Kroenen.
www.pechakucha.sk
www.pecha-kucha.org
Presentations in Slovak and Czech only.
Admission: 4,00 / 3,00 € (adults / students), advance sale 1,00 € less
(1 beer from Černá hora included in the price)
Reservations: rezervacie@stanica.sk, 041 – 56 23 56