Discussion about future of the park-camp under Rondel
Wednesday 25. 8. 2010, 17.00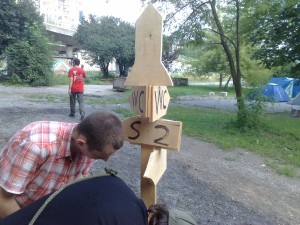 Come and plan with us the future of the park and camping under Rondel bridge next to Stanica. Join the public discussion with the experts from Ekopolis Foundation, our friends architects and designers and bring your ideas and wishes. As the money coming for the reconstruction are gathered from community supporters, the planning will have also a form of community discussion.
For the moment we are planing a fence (security), public toilets and showers (summer camp), finishing of the S2 venue, new shipping containers for residency of artists and children workshops (creative camping), benches and seesaws, waste bins, new walking paths, new space for graffiti and streetart … and after the experience from summer festivals also a garden kitchen. Do you have more ideas? A mini-football or basketball playground? Community BBQ place? Come and join the debate, come prepared on August 25th.
After the discussion, there will be BBQ and dj Puppesh with few songs.