Peter Snadík, Kateřina Kubánková: SlovaKIA
exhibition 6. 8. - 3. 9. 2010
exhibition (Stanica_LAB)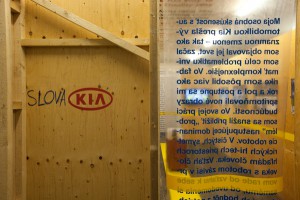 Joint project of Peter Snadík and graphic designer Kateřina Kubánková, thematically exploring the relationship between human and robot. Peter Snadík has been documenting KIA Motors factory for two years, making photos and making videos. Kateřina Kubánkova joined the project with authorial book, working with slogans and visual communication of the factory with its employees. Final exhibition, media installations – documentary photo, video, graphic design, object – is based on the idea of carrying over the factory's atmosphere into the gallery, and have the viewer feel the aesthetics and coldness of its empty space. You will not witness shocking scenes nor social documentary, but rather take part in contemplation over the role of robots and place of living human in space these machines dominate. Both authors are students at the Academy of Fine Arts and Design in Bratislava.
- -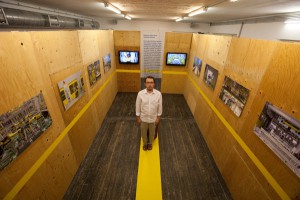 WHAT KIA MEANS TO ME (Peter Snadík, photographer)
In the last century we witnessed the rise of automatization, and humans have willingly conformed to the cycles of programmed machines. The pace at which we work, and also the amount of effort put into work, is directly affected by machines. One-minute cycles ask man for nothing but to repeat step by step operations which are regulated by only seconds. Manual labour, which is unable to compete with machines, is quickly being replaced by them. I often find myself in situations where man has been replaced by machine. This change is always made in the name of humanity, which suspiciously reminds me of the famous work by Karel Capek, R.U.R.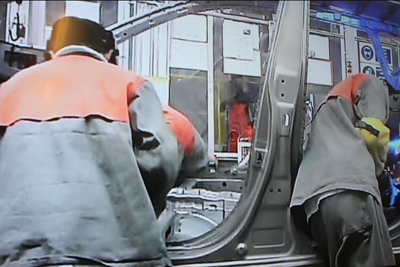 In 2004 we joined the European Union, and thanks to cheap work labor, economical reforms, and a good location in the middle of Europe we have quickly achieved the position of Central-Europe's leader in the automotive industry. Three factories are producing more than a half million automobiles. In a small country such as this, with only 5 million citizens, Slovakia is now one of the biggest producers of automobiles. Suitably, we have gained the nickname, "New Detroit." KIA Motors Slovakia started its production in Slovakia in 2006, in newly built plant near Zilina. This factory is now at the forefront of technology because of the automatization of its production processes. In the Kia plant you can find lines which are almost 100% automatized, and it isn't difficult to see several hundred robots working together in harmony. The fascination with clean esthetic and cutting edge technology in the plant are interrupted by the sterility, emptiness, and human alienation that occurs in the plant. This alienation raises the basic question of the relationship between man and machine and their mutual interaction in me personally.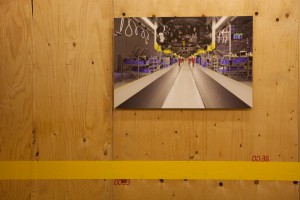 I've spent more than a year in this factory, and gradually I have discovered new pictures of this inherent future, which I will show through photographs and videos. I'm searching for a human being in a clean, symmetrical, hi-tech space, and I'm trying to make more clear the "problem" of gradual domination of man by machines, using strictly central compositions of picture.
My own experience with the factory has changed significantly over time. As I was discovering the world of the factory, I started to perceive a complex problem. I think that the relationship between man and machine is based primally on the relationship man has with himself, and his awareness of his own demands and values. I'm afraid, though, that our society hasn't reached the point where we are capable of being aware of this challenge. I think this is proven by absurd overproduction, and not only in the automobile industry.
- -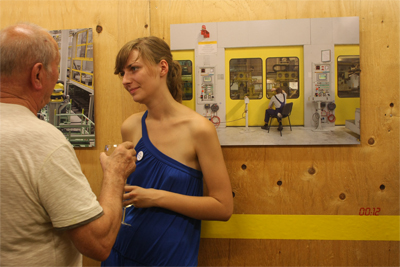 GIVE YOURSELF TIME (Kateřina Kubánková, graphic designer)
The concept of the graphic processing of this book, which you are holding in your hands right now, comes from two basic aspects. Clearly the first are the photographs of Peter Snadik and his perspective of the theme, and the second aspect is the "visual" of the KIA factory space and its own internal media. The internal media consists of a magazine KIA has published for its employees called KIA Family, and statistical information presented on their website. I have drawn all texts in this book from these sources. Its intention is to reveal the Snadik photographic approach/view, and also to let the KIA factory "speak" with its own words and esthetics.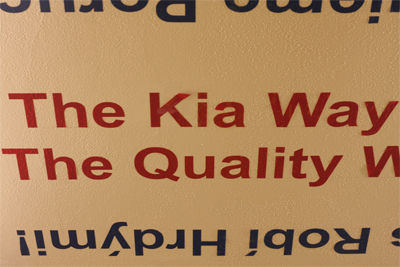 Pursuing this plan is not new, but with rise of robotic technologies it is gaining a new dimension. In the case of the KIA worker we are speaking about one minute. After saying that, I don't want to tell you that this should also be time allotted to leaf through this book, but I wish you a pleasant experience.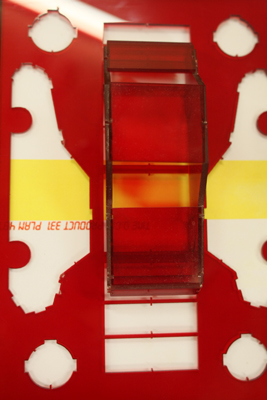 - -
Here are more photos from the opening. Photo by fjk and Peter Snadík.
- -
Exhibition lasts until Kinobus event on Friday, September 3, 2010. Gallery is open from 12.00-8pm on working days, 10am-20pm on weekends. Free entry.
Many thanks for financial support (as well as access to the factory for the artists) to Kia Motors Slovakia.