The First Children summer symposium is over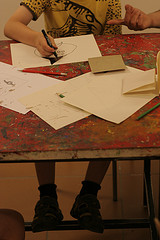 Cez 20 detí, 8 dospelých a 1. tohtoročné letné sympózium juniorov sa blíži do svoho piatkového finále. A my vás priebežne zásobujeme čerstvou fotografickou dokumentáciou aktivít našich-vašich detí. Z dôvodu utajovania musíme ešte stále časť dôkazového materiálu o našej činnosti držať pod zámkom. Avšak piatok… sa všetko dozviete.
More than 20 kids, 8 adults and 1st this year's summer symposium of the juniors is heading to its final. We keep providing you with fresh photographic documentation of our children's activities. Due to classified nature of our work, we still have to keep some materials secret. But on Friday… you will know everything.

foto: dusand & kids
- - - - - - - - - - - - - - - - - - - - - - - - - - - - - - - - - - - - - - - - - - - - - - - - - - - - - - - - - -