Program for March 2017 (english version)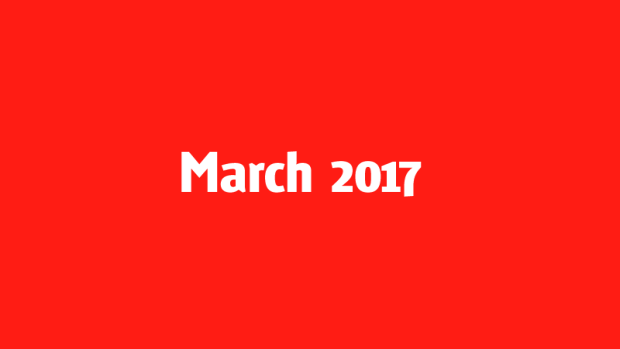 2.03.2017,Thursday,19.00
Theater performance
Theater Non.Grande: Bad gesture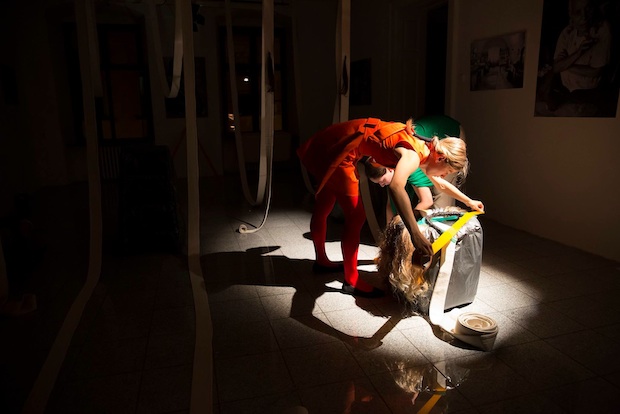 Bad gesture is author visual production about finding a state that would free us from our own problems and bringing us closer to an ideal image of ourselves. However, we should keep it in mind that it is not really possible to be perfect.
Tickets: 4.00 / € 2.50 (adults /students)
4.03, Saturday, 16.00
Animated movie for kids The Boxtrolls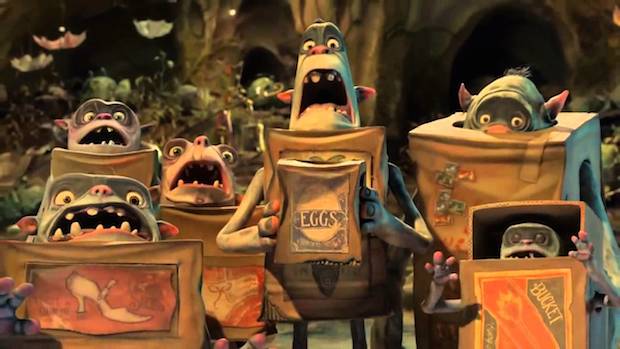 Note! Animated movie will be accompanied by Slovak dubbing
Tickets: 3,00 € / person older than 3 years. One of two parents do not pay entrance
4.03, Saturday, 20.00
Carneval: After the flood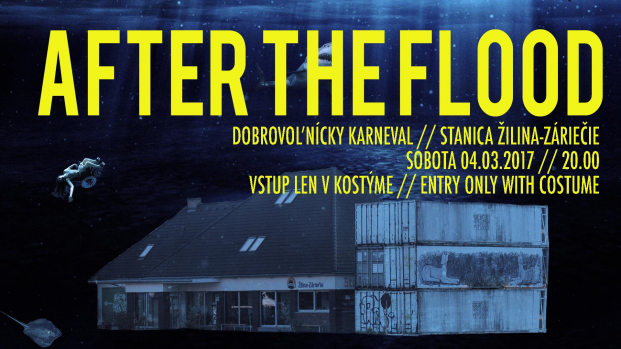 Have you ever thought about diving with a submarine? Or maybe you dreamt about extreme swimming with sharks? Whale-watching in Alaska? Or exploring the Great Barrier Reef with its motley inhabitants? If any of the above ever came to your mind, but still remains a dream, it is time to make it come true! We invite you to our carnival AFTER THE FLOOD organised by our EVS Volunteers.
That evening, Stanica will be completely submersed, so for one night you can swim and dance with starfish, mermaids, jellyfish and other interesting sea creatures.
Free entry - ONLY with costume!
5.03, Sunday, 19.00
Travel [lecture] stand-up by Ladislav Zibura
24-year-old eccentric traveler Ladislav Zibura went to the Himalayas, uncharted valleys of Chinese rivers and obscure villages of Nepal.



Whether the police arresting him or he suffers from altitude sickness, or saving someone`s life, Ladislav takes everything easy. The story of the 1500 km long walking trip is a testament to the simplicity of life and beauty of freedom, where you laugh from the beginning till the end. Do not expect any descriptions of tourist attractions and monuments. The projection is about Chinese, Nepalese people and their lives.
Tickets: 3.00 / € 2.00 (adults /students)
7.03.2017, Tuesday, 17.00 and 20.00
Movie, Autor projection: Czech Allah (r. Zuzana Piussi)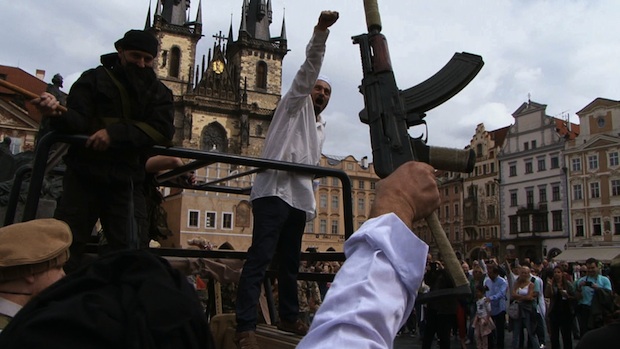 Country of direction: Czech Republic / 2016 / 82 min/ Czech language
Tickets: 3.00 / € 2.00 (adults /students)
8.03.2017, Wednesday, 19.00
Piano recital: Katarina Paľova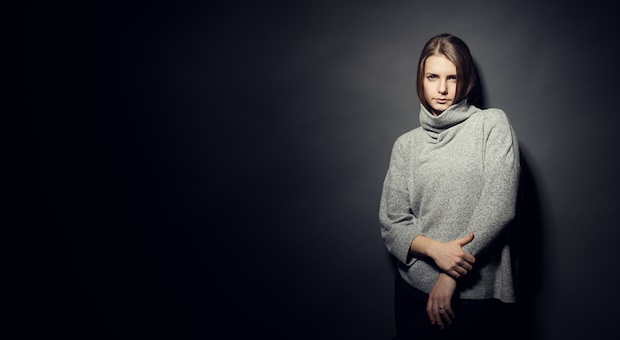 Women's Day this year will brighten up young pianist Catherine Palova. Except familiar "classic" (Berg, Janacek, Scriabin), more than one-hour long program will include compositions which you do not have chance to hear anywhere. The piano repertoire is almost unlimited, primarily because of such discoverers like Katarina Palova.
Tickets: 4.00 / € 3.00 (adults /students)
9.03, Thursday, 19.00
Lecture, screenings: Music of 2016
So much music everywhere: but isn't it getting a little weird? Are not musicians degenerating into all these micro-scenes? Is your social bubble better than my social bubble? What does it mean that in war the muses are silent? And meanwhile a music journalist is aging: will his heart and hearing aid keep in touch with the music of the coming generation?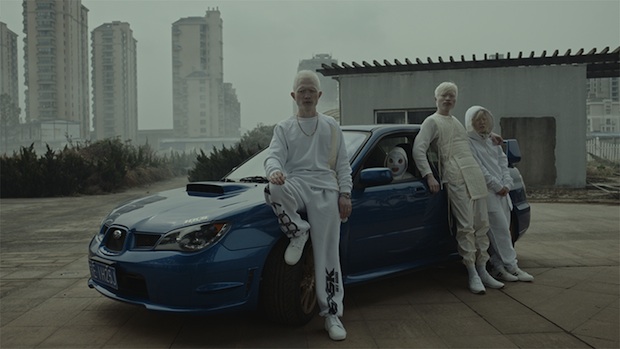 For the twelfth time publicists, festival dramaturges and initiators Pavel Klusák, Aleš Stuchly and Karel Vesely will meet to take stock of the year in music that was. New aesthetics, creative achievements and this year's discoveries in independent pop and experimental music in a dynamic evening of screenings, recordings, commentary and inadvertent performances.
Tickets: 3.00 / € 2.00 (adults /students)

10.03.2017 Tuesday, 17.00
Movie: Cain's Children

Country of direction: France, Hungary / 2014 / 103 min /Hungarian language; Slovak subtitles
Tickets: 3.00 / € 2.00 (adults /students)
11.03.2017 Saturday, 16.00
Theater for kids: Puss in Boots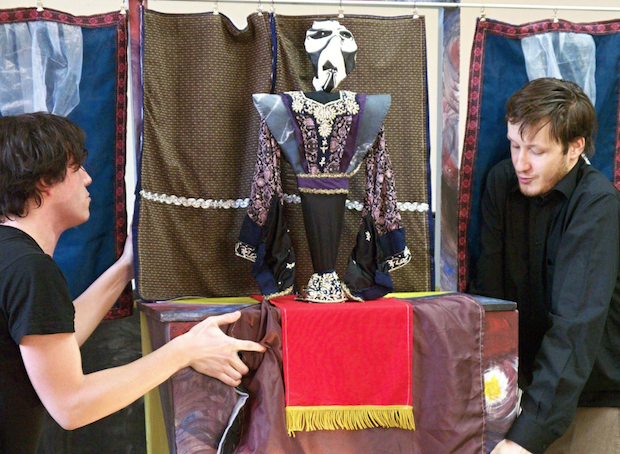 When one brother gets a mill as a fortune and another donkey, it seems that getting a cat is bad luck. Especially if it is a vegetarian and considers mice as friends. But sometimes friendship means more than half of the kingdom and the princess.
Tickets: 4,00 € / person older than 3 years. One of two parents do not pay entrance
12.03.2016, Sunday, 17.00
Community dinner: Asian Vegan Sunday
Vegan Sunday at Stanica happen once a month and each Sunday has its topic (late harvest, traditional Indian, Christmas), which tells you on what kind of food you can enjoy and in what kind of food you can also cook for common table. We invite you to make trip to Asia to collect traditional tastes and delicacies. We would also ask you to bring your own lucnhbox to ease cleaning of venue after event.


Admission to the dinner is free, but on the tables are always money-box for a voluntary contribution. All money left at the end of the year will be added and devote organizations dealing with abandoned animals. It is up to you how much you decide to contribute.
12.03.2017, Sunday, 19.00
Travel presentation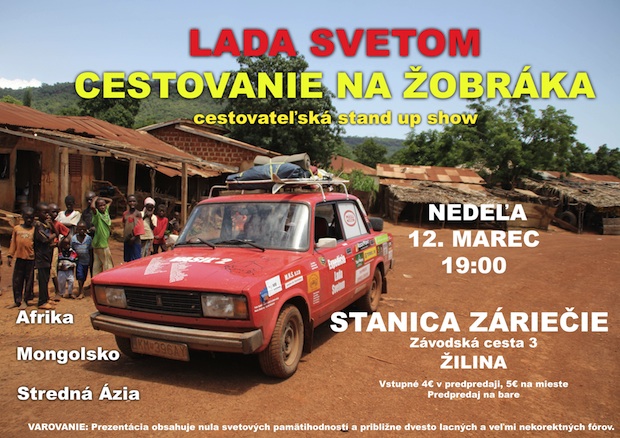 Thousands kilometers in leatherette seats of zhiguli, sleeping on the ground and dreaming about shower, the never-ending negotiations with the drunk custom officers and police officers, bribes, endless repairs of car. How did the guys managed to go through Central Asia, West Africa and Mongolia, let their car be stolen and managed to find it. We promise suuper funny evening, full of jokes and unbelivable true stories about their trips.
Admission in presale: € 4.00 (Tickets at Stanica bar)
On the venue in the day of event: € 5.00
14.03.2017 Tuesday, 17.00 and 20.00
Movie: Death in Sarajevo

Country of direction: Bosnia a Hercegovina, FR / 2016 / 85 min /Bosnian language language; Czech subtitles
Tickets: 3.00 / € 2.00 (adults /students)
15.03.2017 Wednesday, 19.00
Theater Potôň: Military name Rama



The latest co-production of the theater Pôtoň with Ukrainian artists - Military name Rama - conveys the authentic story of a young woman and the story of her country.
Country torn by war, where one side are the democratic values on the other hand, extremism and totalitarianism. Production directed by Sashko Brama is a memento for us. How far is Slovakia from Ukraine?
Tickets: 5.00 / € 3.00 (adults /students)
16.03.2017, Thursday, 18.00
Discussion with Fedor Blascak: Let`s get rid of illusion that education prevents propensity to fascism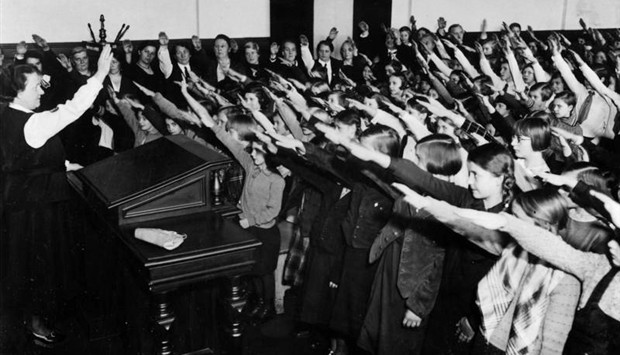 Does it make sense to fight extremism by trips to Auschwitz? What happens if we add one extra hour of history to highschoolers curriculum? How well "armed" we send pupils to " fight" against extremism? Discussion on the status, opportunities and limits of the education system connected to possible ways to curb extremism and fascism, anger and stupidity. Guests of Fedor Blaščák - sociologist Andrej Findor and other experts in the field of pedagogy and psychology.
Note! Discussion is in Slovak language
The entrance is free thanks to the support of the ERSTE Foundation.
17.03.2017, Friday, 18.00, gallery Plusmínusnula
Opening of exhibition
Students of Academy of Fine Arts in Bratislava [MATTER]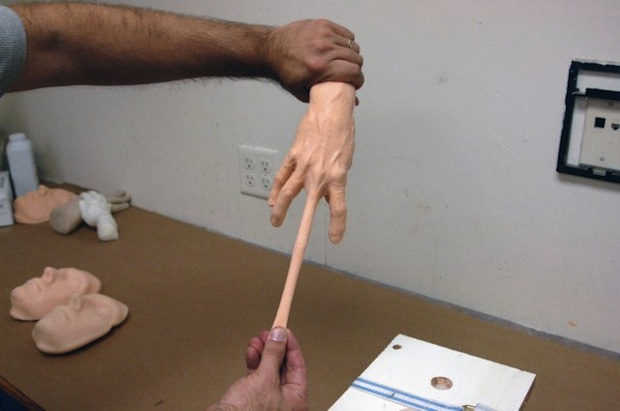 The aim of the week-long workshop students from the Bratislava Academy of Fine Arts the formation, creation of prints and negatives, collecting surfaces, forgery, experiment. The collection of stories, textures, surfaces, memories, history, information. As a result of the project [MASS] will be exhibition of "experimental material" in the art gallery Plusmínusnula. The exhibition will run till 20.04.2017
Free entrance
18-19.03.2017, Saturday - Sunday,
Space and Color. Workshop / School of the Light Design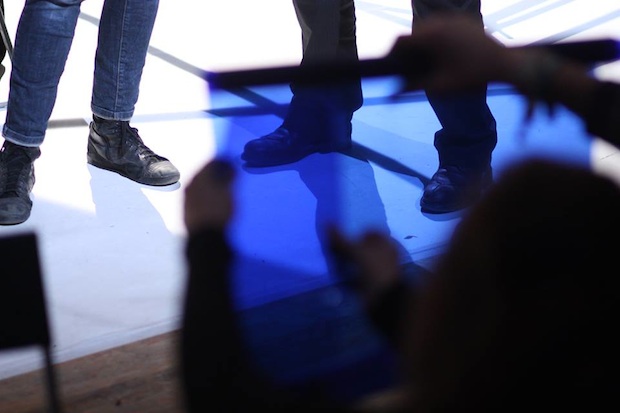 Workshop focused on the scene and theatre light design technics, this time dedicated to the work with colors and particular space. We will find out more about primary and secondary colors, about substractive and additive color mixing, about color of light involving the color of the object, about mixing and combining the colors using basic theatre light fixtures, about black and white box characteristics and their impact on the color.
The workshop is designed for technicians, light designers, stage designers, and artists. Information and enrollment: katka@stanica.sk.
19.03.2017, Sunday, 20:00
Concert
Underground Stanica 2: Kids Insane(ISR), Slander (It), Downstream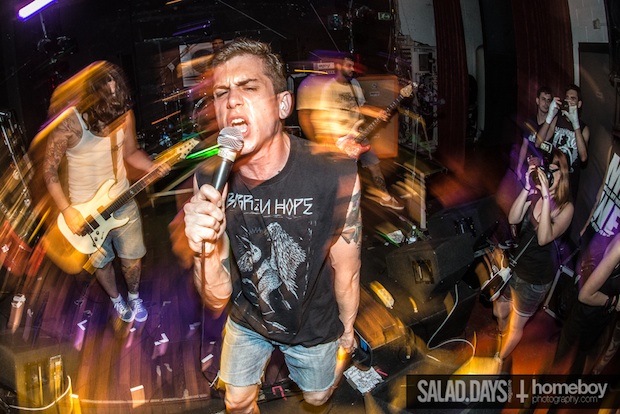 March underground party with an exclusive guest who actually do European tour together. Israeli foursome Kids Insane serves uncompromising hardcore punk, Italian Slander something similar to it, but in metal arrangement. The band Downstream from Trencin will come back on stage after a long concert break.
Tickets: € 4.00 (adults /students)
21.03.2017 Tuesday, 17.00 and 20.00
Movie: Reality (r. Quentin Dupieux)


Country of direction: / FR, BE, USA / 2014 / 95 min /French language; Czech subtitles
Tickets: 3.00 / € 2.00 (adults /students)
22.03.2017 Wednesday, 17.00
Movie: Paterson (r. Jim Jarmush)

Country of direction: USA/ 2016 / 113min / English language; Czech subtitles
Tickets: 3.00 / € 2.00 (adults /students)
22.03.2017 Wednesday, 20.00
Movie: It's Only the End of the World (r. Xavier Dolan)

Country of direction: Canada, FR/ 2016 / 97 min / French language, Czech subtitles
Tickets: 3.00 / € 2.00 (adults /students)
24.03.19, Friday, 19.00
World music festival: Relu & Zuralia Orchestra (Ro), Balkansambel, Balkan String Trio (Srb)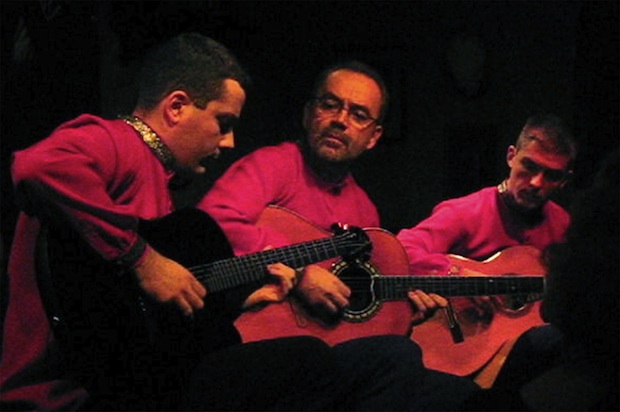 Unique possibility to listen to universal language of music combining jazz, swing, ethnic, classical guitar and musical tradition of Macedonia, Romania, Moldova, Hungary, the Mediterranean and the Orient. Or elements of Romanian folk music, , reggae, latino and traditional Roma music. The evening will continue at the bar with after party with DJ Potkan (Hudba sveta_FM).
The first day of the festival will be held in the rhythm of tango - City Theatre in Zilina will perform on Thursday, 23. 3. Ariel Ramirez and Slovak Tango Quintet.
25.03.2017 Saturday, 16.00
Theater for kids
Puppets Without Borders: Apple tree tale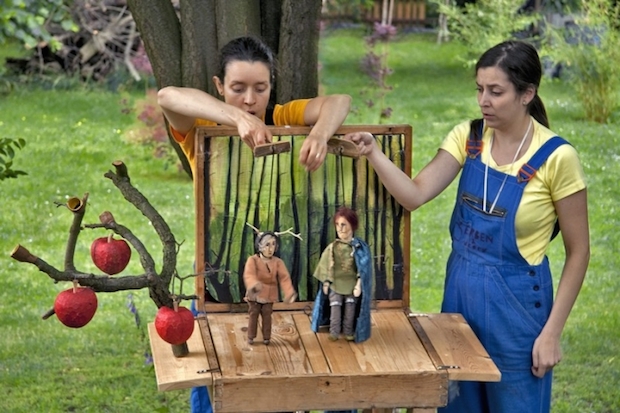 One apple tree, one king, two doves, two weddings and one great curse. Will brave king be able to save his apple tree love? Puppet story inspired fairytale of Karel Jaromír Erben. Performance will be followed by a workshop - cutout of "magic apple".
Note! Language barrier exist
Tickets: 4,00 € / person older than 3 years. One of two parents do not pay entrance
28.03.2017 Tuesday, 17.00
Movie: It's Not the Time of My Life

Country of direction: Hungary / 2016 / 81 min / Hungarian language, Czech subtitles
Tickets: 3.00 / € 2.00 (adults /students)
Movie:
Staying Vertical/ Rester vertical

Country of direction: France / 2016/ 100 min /French language, Czech subtitles
Note! The movie is marked as 18+ category
Tickets: 3.00 / € 2.00 (adults /students)
29.03.2017, Wednesday, 19.00
Theater performance, grotesque: Anicka and little plane: Picus neni kretin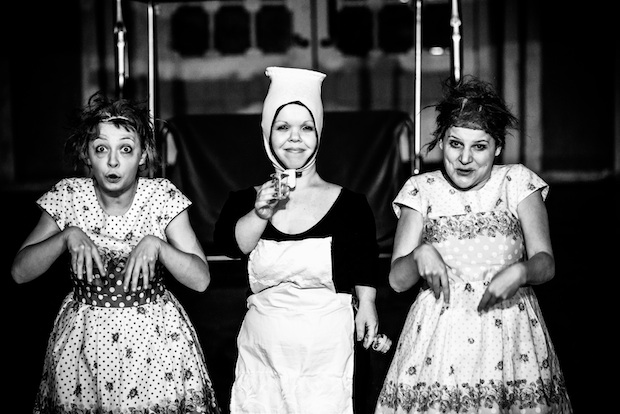 Comedy about two old cows and a garden gnome.
Tickets: 3.00 / € 2.00 (adults /students)
31.03.2017, Friday, start at 18.00
Road and pathway: traveling festival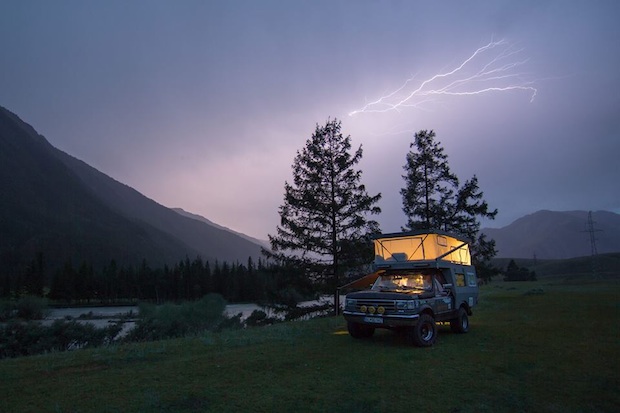 Three interesting presentations, full of inexpressible memories and vivid impressions will ensure great mood and atmosphere for Friday evening.
18.00 Zuzana Remišová and Martin Remiš will share stories from their 6 month-long Honeymoon trip to Mongolia and Siberia by caravan.
19.30 Amazing coffee, aggressive tribes Surma and Mursi and probably the most beautiful women in Africa – this is Ethiopia. Excursion by this small African country will organize Peter Koutný.
20.30 Around the World with Tomas World Expedition
Iran, Afghanistan, India, Bolivia, Ivory Coast, and much more. This journey will strongly impress you, it will be so authentic, that you will forget about festival and screening hall and find yourself in the most exotic places in the world.
Note! Presentations are in Slovak language
Tickets:7,00 € at the venue (adults /students).
Presale: 6,00 € in pre-sale