Program for September (English version)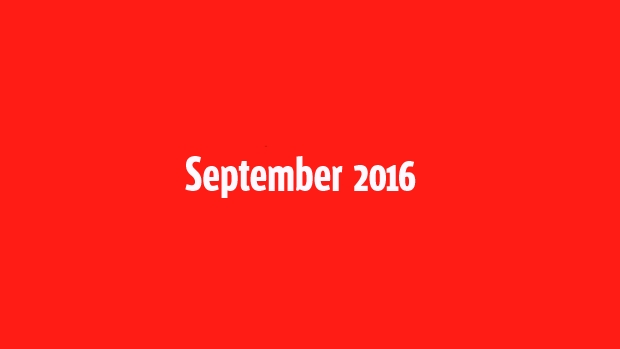 1-4.09.2016
Kinobus 2016 (Not only) film festival
Route: Levice - Tlmače - Hontianske Tesáre - Podbrezová
Topic: Toxic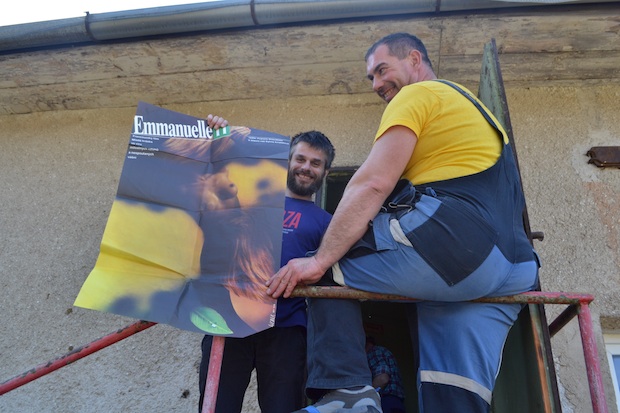 Film festival includes bus trip, natural history lesson, screenings, lectures and warm hospitality, this year will happen between the regions of Hont and Tekov. To discover better this magic region, we will roam around it with the topic "Toxic".
Old theaters, amphitheaters, underground boiling Dead Sea, wine amazing and friendly atmosphere are perfect start of autumn.
2. 09. 2016, Friday, 18.00 gallery Plusmínusnula
Exhibition opening. Áron Kútvölgyi-Szabó (Hu): In between grids
Aaron Kútvölgyi-Szabó (born in 1985) is one of the most important Hungarian artists of the youngest generation. In cooperation with the Hungarian association "The Studio of Young Artist" gallery Plusmínusnula presents work of young Hungarian artist Aaron Kútvölgyi-Szabó. His work could be characterized as a unique guide into an internal mental land. Artist in contrary to media reveals hidden patterns and relationships between the different fragments of our memory.
Exhibition in the gallery will run until 30.09. 2016.
Free admission
5.09.2016, Monday, 18.00
Filming of public talk
Under the lamp: Is America our ally or rival?
This time, besides Bratislava, creators of public talk filming format "Pod lampou" ("Under the lamp") will visit also Zilina. Hall of our S2 at Stanica will turn one day into a stage for filming public discussion . This time the topic is discussion "Is America our ally or rival?". Interesting dialogue of Otakar Foltýn from the General Staff of the Czech Army and Daniel Bútora, former director of the Slovak broadcasting Radio Slobodná Európa (Free Europe) moderated by Chief editor of newspaper Týždeň (Week) Štefan Hríb.
Note! Discussion is in Slovak language
6.09.2016, Tuesday, 15.00 -17.00
Signing for long-term workshops for children for year 2016/17
Introduction to year-long series of weekly workshops for children, a welcoming afternoon with creative activities for children and an informal meeting of parents, educators and other friends a children's Stanica. Season of workshops starts on from 12.09.2016. Information and enrollment: Hana Hudcovičová Lukšů hanka@stanica.sk 0907 178756
6.09.2016, Tuesday, 17.00 and 20.00
Movie
Kollektivet / The Commune
Trailer:

Country of direction: DK, NL, SWE / 2016 / 111 min /Danish language, Czech subtitles
Tickets: 3.00 / € 2.00 (adults /students).
7. 09.2016, Wednesday, 19.00
Air acrobatics, contemporary circus
Eliska Brtnická, Cirkus Mlejn: Enola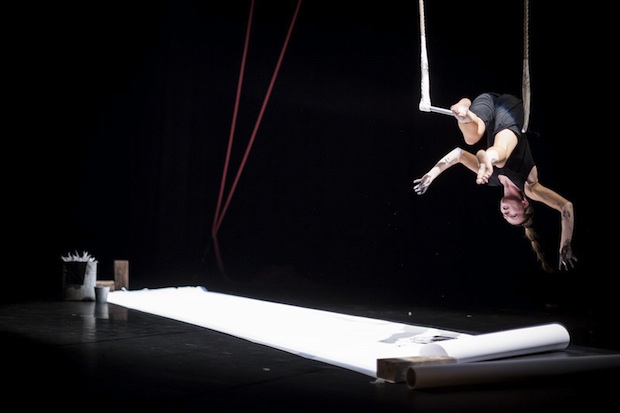 The play is inspired by Japanese aesthetics, stories of those who survived the atomic bombing in Hiroshima and ancient legend about thousand paper origami cranes, that can fulfill a secret wish of person, folded them.
The main idea, however is what exactly comes to your mind during the play, your personal thoughts, because all of us have our own internal war and tragedy
But mainly about what will take place during the follow-up mind - We all have our little war and his own tragedy.
Concept, choreography, interpretation: Eliska Brtnická
No language barrier
Tickets: 5.00 / € 3.00 (adults /students).
10.09.2016, Saturday
Festival HIP HOP Swine Day



One day-long musical and visual festival focuses on a young domestic hip-hop and "street art" developed in collaboration with web magazine Swine Daily. Main program starts in the evening and will feature a number of Slovak producers and rappers - Fobia Kid with a galaxy Y, Gumbgu & Konex, rap crew from Presov Vlčá Svorka and its known DJ and beatmaker Beyuz. Special visual performances, projects involving young original creators of the Czech Republic and Slovakia are also waiting for visitors. Among them will be, for example, Lukáš Parolek aka KudlaPress or Juliana Chomová. Day part of the event will take place in the park of Stanica, where besides the bar and barbecues you can play petanque or badminton, and to cheer you up there will play Emil Hey from the duo Emonoizboyz.
Tickets in presale: 6,00 / 4,00 € (adults / students)
Na mieste: 7,00 / 5,00 €
11.09.2016, Sunday, 17.00
Community dinner Vegan Sunday: late harvest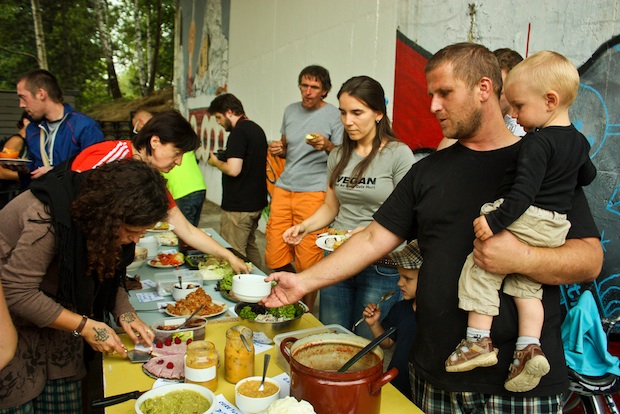 Vegan Sunday at Stanica happen once a month and each Sunday has its topic (late harvest, traditional Indian , Christmas), which tells you on what kind of food you can enjoy and in what kind of food you can also cook for common table.
Admission to the dinner is free, but on the tables are always money-box for a voluntary contribution. All money left at the end of the year will be added and devote organizations dealing with abandoned animals. It is up to you how much you decide to contribute.
12.09.2016,Monday, 19.30, bar or terrace
Concert: Haystack Monolith (Sco), Gorem & Avona (Uk), Dáša Fon Fľaša (SK)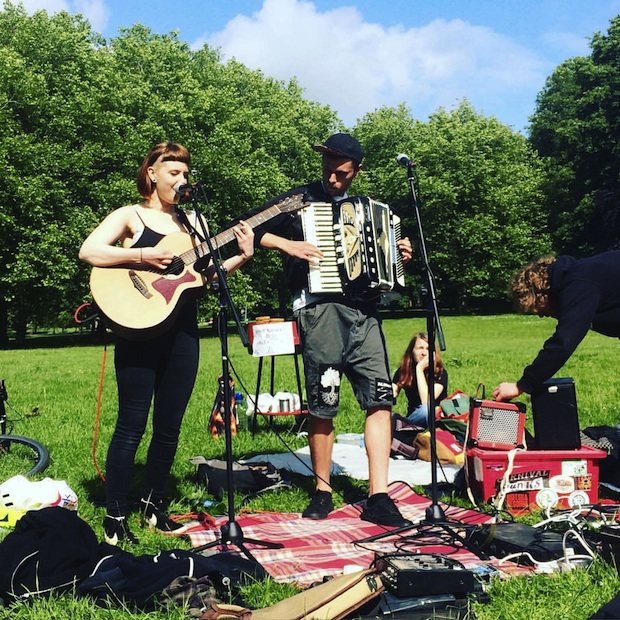 Another folkpunk Monday at Stanica's the bar. Haystack Monolith is a cheerful guy from Scotland. Whatewer he does – either plays ukulele, guitar or some surreal instrument, he all turns out well. Gore & Avon are a girl and guy from Bristol and for the salvation of the world are struggling with accordion and guitar. Dáša Fon Fľaša is local bard, he will prepare something special for this evening.
Admission is voluntary, however recommended tip to support musicians is 3€.
13.09.2016, Tuesday 13:00 - 17:00
Workshop: making of green roof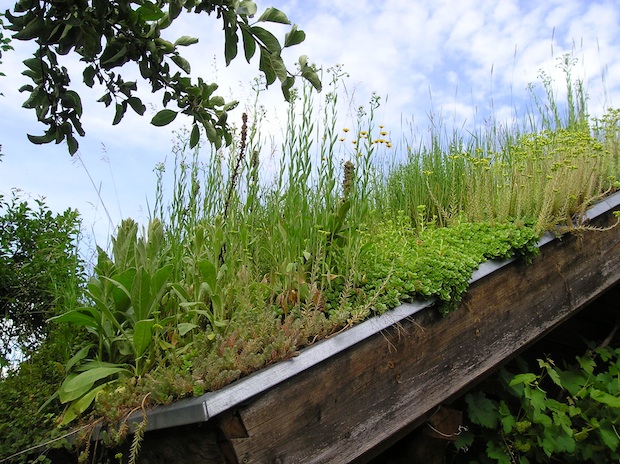 Practical workshop of DIY architecture in which we make green roof on container where bicycle reparing venue Recykel based in, using permaculture principles. Tutor is Čestmír Holuša (CZ) – an lecturer of permaculture courses with rich experience in this field. In addition to theory, we will pay particular implementation of the first green roof in the garden of Stanica. The event is organized in cooperation with NGO Mulica open for public and admission is voluntary.
Note! Workshop is in Czech language
13.09.2016, Tuesday, 17.00 and 20.00
Movie
Schneider vs. Bax
Trailer:

Country of direction: NL, B/ 2015 / 96 min / Dutch language, Czech subtitles
Tickets: 3.00 / € 2.00 (adults /students).
15.09.2016, Thursday, 20.00
Concert of band Caudal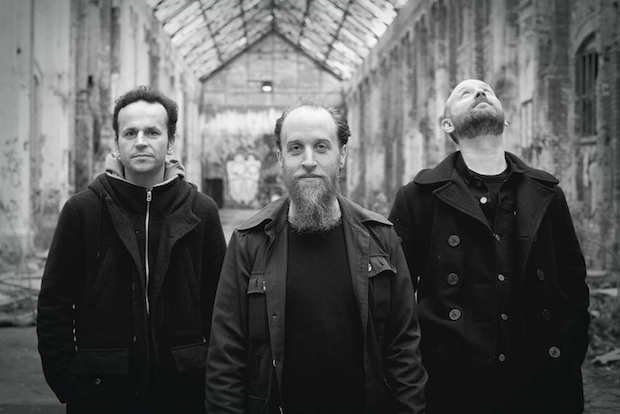 At the head of the Berlin trance-punk trio Caudal stands Aidan Baker from drone metal band Nadja. Ecxept of Baker (guitar) band is formed of Gareth Sweeney (bass) and Felipe Salazar (drums). Baker's multi-layered guitar sound and riveting Salazar's and Sweney's rhythmic ride is intertwined in long atmospheric songs where you can track down the best influences of krautrock, post-punk, psychedelia and space drone rock.
Tickets: 4,00 / 2,50 € (adults /students).
16.09. – 18.09.2016, Friday
4th Edition of festival of mountain film and adventure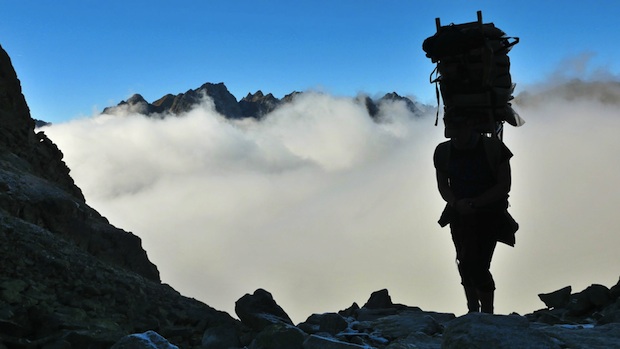 Three days full of thrilling sporting performances, unforgettable experience of the mountains, and stories about human strongness. In addition to numerous screenings divided into thematic blocks (rocks, snow, air, mountain bikes, water …) several eye-catching presentations will be possible to attend at Stanica. Drawing card of festival will be well-known Slovak filmmaker Pavol Barabas, who will introduce his latest work Freedom under Load, shooted in the Tatra mountains. Ján Madarás a Michal Novota will talk about their expedition and attempt to conquer Everest by complex pathway Bonington. Everyone can join to work on you fit during Saturday afternoon exercises at Stanica's park. Interesting interactive presentation will be prepared by the Mountain Rescue Service. As a tradition, during festival, evening program will not be missing. Everyone welcome to join parties and graffiti paintings under Rondel.
Tickets for one block of festival: 3,00 / 2,00 € (adults /students).
20.09 – 23.09.2016, Tuesday-Friday
Literary Festival 2016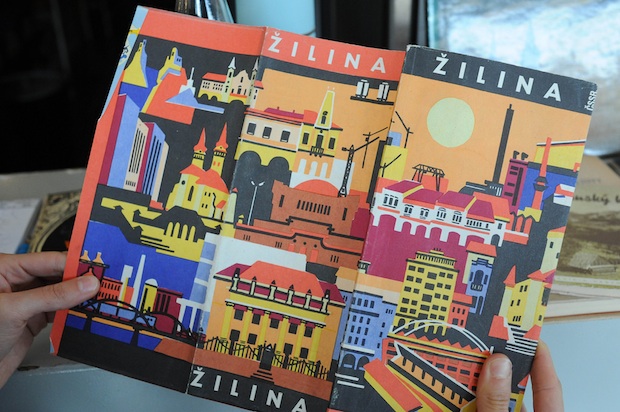 Woman, street, palm, bone – those are the themes of the 13th annual Zilina Literature Festival. And now puzzle over what to expect. Surely this year will be full of changes. The new venue - freshly renovated Rosenfeld Palace, guests will also be new – among them Irena Brežná, Martin Pollack, Ján Púček, Marek Vadas, či Lukáš Zorád. Four intense days with writers, musicians (Longital Suite, harpist Michal Matejčík) booksellers and bookworms. You will be overdosed by literature, which this year will be marked by feminine. For details, visit www.zlf.sk
Note! Language barrier for foreign-speakers exist, however we invite you for concerts during festival
20.09.2016, Tuesday, 17.00 and 20.00
Movie
Komorná / The Handmaiden / Agassi
Trailer:

Country of direction: South Korea / 2016 / 145 min /Korean language, Czech subtitles
Tickets: 3.00 / € 2.00 (adults /students).
21.09.2016, Wednesday, 20.00, Rosenfeld Palace
Harp solo recital of Michal Matejčík
We always have special pleasure from premieres, but from multiple premieres we have multiple pleasure. First time we will introduce to the audience of Zilina famous in media Michal Matejčík, the first time will sound harp as a solo recital.
Michal Matejčík comes with a piece of history of harp literature and travels to minimalism, jazz and world music.
Tickets: 4.00 / € 3.00 (adults /students).
22.09.2016, Thursday, 17.00
Cycling around Zilina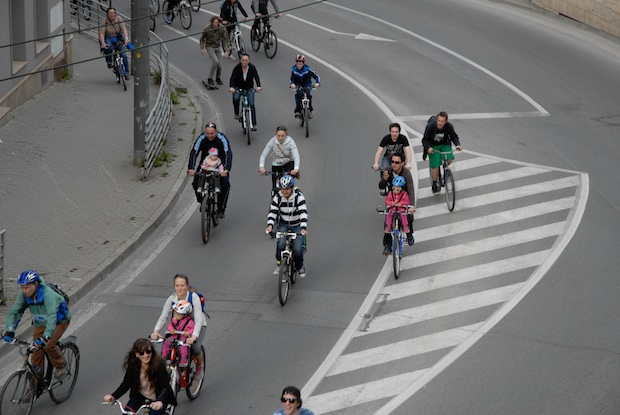 A community bike ride around city center of Zilina reveals the beauty of the city without a car. We invite you to 19th socializing event with a political context which is fighting for a better and healthier city. This year bike ride will be finished near the newly opened Rosenfeld Palace, where after nice bike tour you can also attend a great instrumental concert within Zilina Literary Festival.
22.09.2016, Thursday, 20.00, Rosenfeld Palace
Concert of Longital Suita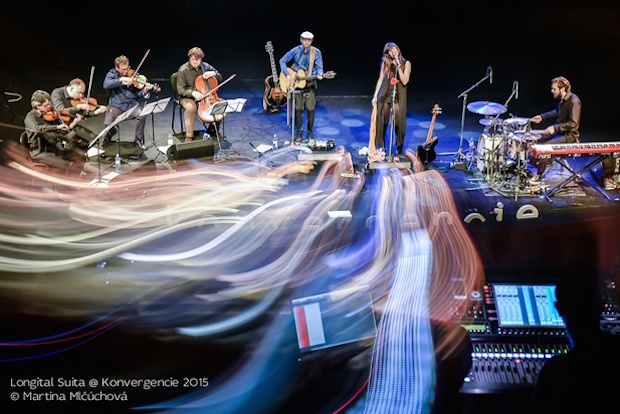 Longital Suite - a remarkable trio Longital joined with a string Quartet finally will perform in Zilina. Magical and spontaneous concert composed of the strongest songs created by Longital for chamber music festival Convergences in September 2015. The author of the original arrangements is Slavo Solovic – famous songwriter who successfully crosses the boundaries between popular and alternative music and the world of classical music. Longital suites are inspired by the classic form suites, but also breaks the customary ways of combining rock band with a bow. Longital Suite is a union of eight bright personalities, connected by musicians'work, respect and friendship.
Longital: Shina - vocals, bass, fiddlestick; Daniel Salontay - guitars, fiddlestick, vocals; Marian Slavka - drums, piano
Quartet: Stefan Filas - first violin; Milan Adamec - violin; Slavo Solovic - viola; Magdalena Izakovičová - cello
Sound: Martin Čema
Tickets in presale : 12.00 / € 8.00 (adults /students).
Tickets at the venue: 15.00 / € 10.00 (adults /students).
24.09.2016, Saturday, 10.00-17.00
Small autumn market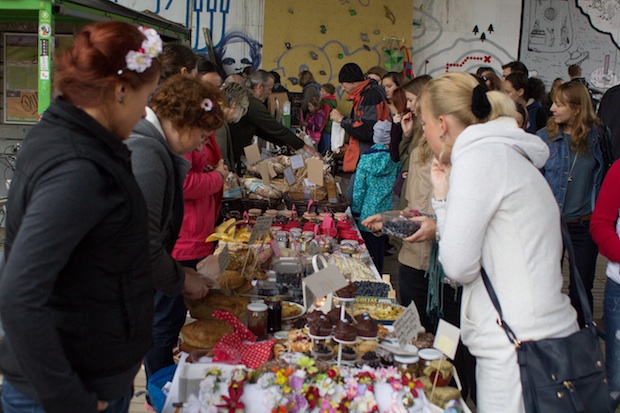 We have worked hard choosing sellers for an autumn release of small market, focusing on the originality of their products, ideas and presentations. We are sure that everyone will find whatsoever they look for: tasty food, herbal crops, cosmetics, accessories, and other products.
25.09.2016, Sunday, 19.00
Movie/ KineDok
Drifter (r. Gábor Hörcher)
Trailer:

Country of direction: Hu, D / 2014 / 72 min / Hungarian language, Slovak subtitles
Tickets: 2.00 / € 1.00 (adults /students).
26.09.2016, Monday, 19.00
Public radio recording: Another music with Radio Devin
Radio Devin live at Stanica with another music and about another. In addition to the "other music" that will sound about it will speak sound engineer and composer Juraj Duris from experimental studies Ltd., with its guest - composer Petr Machajdík.
Description Terms experimental music is difficult. It represents an aspiration for hunters, hunters something new. This music synthesizers are not, they are not strange sounds. It is a search for a new language in a new area of new sonic, it is a new expression of the new technologies.
Free entrance
Note! Language barrier exist.
27.09.2016, Tuesday, 17.00 and 20.00
Movie
Chronic
Trailer:

Country of direction: / Mexico, FR / 2015 / 92 min / English language, Czech subtitles
Tickets: 3.00 / € 2.00 (adults /students).
28.09.2016, Wednesday, 17.30
Café Europe: How to confront with a new wave of extremism in Europe?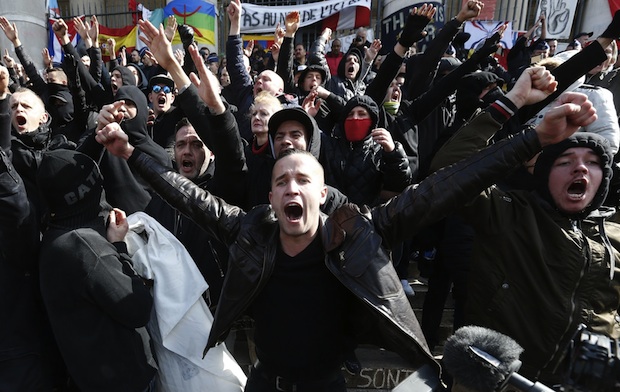 Discussion with coffee and cake
This time main topic of discussion will be about the growing threat of extremism in Slovakia and Europe. Guests are not yet confirmed, but organizers from the Slovak Foreign Policy Association invited Daniela Mila, an expert on extremism at the Ministry of Interior affairs and Petra Vejvodova from Masaryk University in Brno. Discussion Event Café Europa creates an informal space to discuss issues with European dimension under the presidency of Slovakia in the Council of the EU.
Free entrance
30.09.2016, Friday, 17.30
Zilina Live / Žilina žije - It's inside of us
Opening ceremony and discussion in frame of Zilina club festival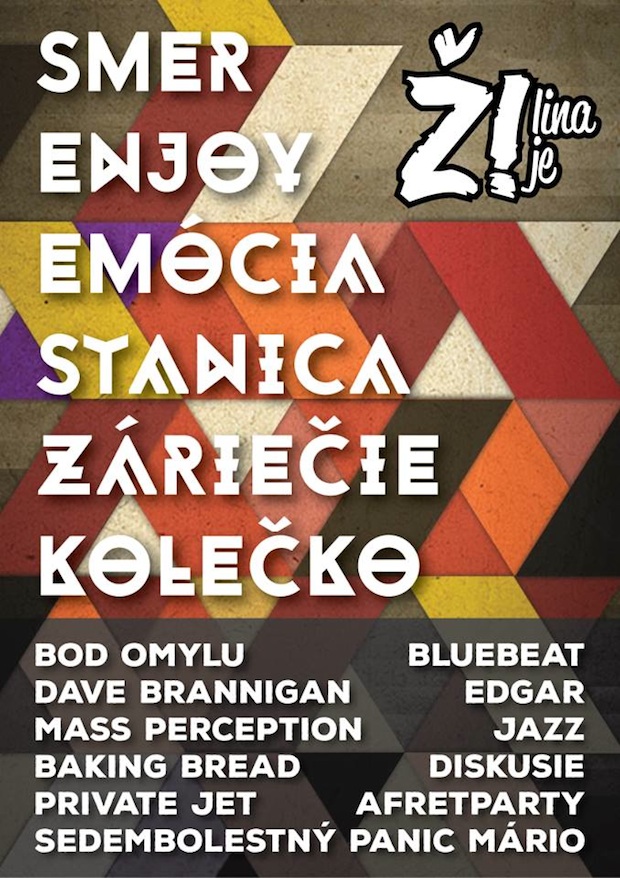 Opening ceremony and discussion in frame of Zilina club festival
Program of festival Zilina Live 2016:
Stanica Žilina-Záriečie
17.30 - 18.30 Official opening and discussion: Its inside of us
Smer Music Bar | Miklovica stage
19.00 - 19.30 Private Jet (garage)
20.30 - 21.10 Baking Bread (alternative-grunge)
22.10 - 23.00 MASS PERCEPTIONKRST EP (electronica-roc'n'roll)
00.00 - 01.00 EDGAR (rock)
Emócia Gallery & Caffe Club
19.30 - 20.30 The Bluebeat (alternative-bigbeat)
21.00 - 00.00 DJ DayD & Serious SAX (NuJazz emotion) round1
Klub Kolečko
19.40 - 20.20 Sedembolestný Panic Mário (punk-rock'n'roll)
21.20 - 22.00 Dave Brannigan (indie-rock)
23.10 - 00.00 Bod Omylu (alternative-rock)
AFTERPARTY - Enjoyclub
Main stage – Enjoy Friday (DJ Marko Mazák, DJ Martin Cehelský)
Alternative stage – Freaky Tiki (DJ Spliff, Selecta Abnorman)
Festival pass: 5,00 € – entrance to all clubs during evening including afrerparty.
Util 29.09.16 on www.predpredaj.sk.
Single pass: 3,00 € – entrance to one venue. Possible to buy at the clubs during festival.
For most of our events you can use presale to buy tickets in advance at http://predpredaj.zoznam.sk/sk/listky/5879/kulturne-podujatia–stanica-zilina–zariecie
Tickets can be purchased online, or at any of the outlets Predpredaj.sk or directly at Stanica.