ME-SA / BOD.Y / Renan Martins:
Let Me Die In My Footsteps
dance performance / pre premiere
Friday 15th May 2015, 7 pm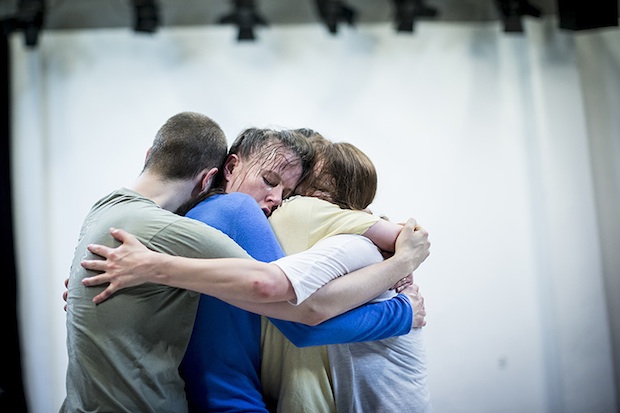 In "Let Me Die in My Footsteps" four dancers embody crisis as departing point in an ambiguous journey of conflict and resolution. The soundscape created by Gasper Piano, in contrast to the dancer's strenuous physicality, offers a subtle sense of nostalgia.
In his new work Renan Martins de Oliveira attempts to create a pure dance piece where the vocabulary is generated from the necessity of being together, even in times of clear adversity.
ME-SA was established in 2008.The company works as an open platform that combines author's projects with inviting various guest choreographers both from Czechoslovak dance scene and abroad. In 2013, ME-SA became for the first time part of Aerowaves TOP 20 Priority Companies List thanks to project Much More Than Nothing created by duo Peter Šavel/StanoDobák. The company got three times the nomination for "Dance Piece of the Year" Award. In 2015, one of ME-SA founders, Martina HajdylaLacová, was awarded "Dancer of the Year" Prize for her performance in SuperNaturals, another piece by ME-SA listed at Aerowaves Selection for 2015. ME-SA has presented its projects at various festivals: APAP/NYC, Spring Forward, Czech Dance Platform, TanecPraha, Edinburg Fringe etc.
Choreography: Renan Martins de Oliveira
Created with and performed by: Martina HajdylaLacová, SoňaFerienčíková, KarolínaHejnová, Gasper Piano and Benjamin Pohlig
Understudy: Helena Araujo
Music: Gasper Piano
Costumes: Victor Perez Armero
Production: ME-SA, BOD.Y and Seventysevenvzw
In Collaboration with: Studio ALTA and StanicaŽilina
Supported by: Prague City Hall, Ministry of Culture Czech Republic, Ministry of Culture Slovakia, Artist's Life Foundation
This project was created in frame of Studio ALTA residential programme.
www.me-sa.cz
www.renancaldoverde.wix.com/renan-martins
Admission: 5,00 / 3,00 € (adults / students)
Reservation of tickets: rezervacie@stanica.sk, 0948 344 606
It is necessary to come for reserved tickets at least 15 minutes before start of the event. Thanks for your understanding.