Žilina – Centrum Rudiny II.
architecture competition proposals exhibition
6. - 18. 6. 2014, Stanica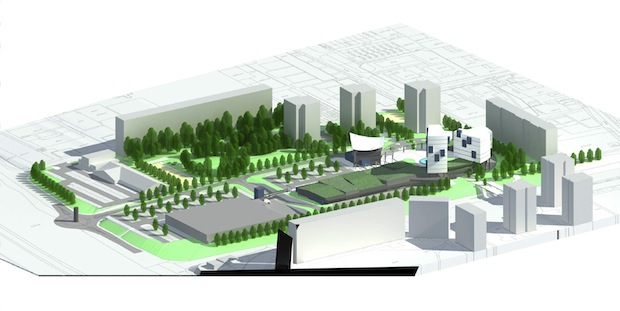 Unfortunately, it is not usual when a developer in Slovakia calls for public architecture competition verified by Slovak architecture chamber. Even more positive exception was a competition on the area between Hliny VI. a Solinky where there will not be IKEA (according to urban legends) but a new residential area with appartements, shops, playgrounds and central square. Istrofinal corporation opened this competition in autumn 2013 and in december, the jury (prof. Ing. arch. Štefan Šlachta PhD. (chairman), Ing. Slavomír Bodis, Mgr. art. Róbert Dúbravec, Ing. arch. Dušan Maňák and Ing. arch. Ľuboslav Mlynarčík), selected a winner from 12 participating proposals - project of Proma studio (Ing.arch. Miroslav Marendiak and Ing. Jozef Sobčák) which will be presented same day during Pecha Kucha Night. Second prize was awarded project by Aprox studio and the third one architect Michal Diviš and collective. Organizer of the competition, Slavomír Bodis (Istrofinal), has decided to introduce all the projects also through an exhibition at Stanica.
You can watch the exhibition until 18 June 2014.