Pecha Kucha Night Žilina – Volume 27
20 slides x 20 seconds
Friday 6. 6. 2014, 8.20pm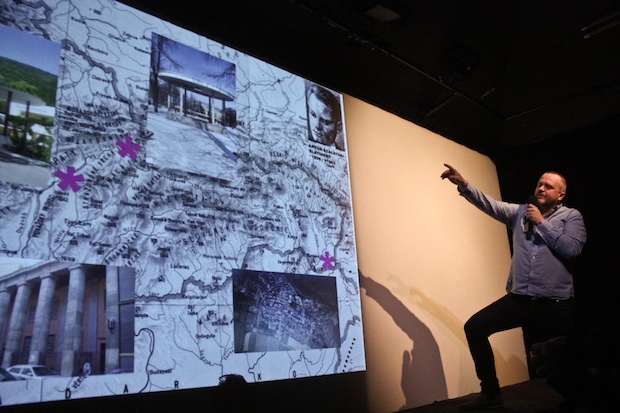 Popular presentation format of architects, artists and other people and projects which you should know about. This time, we have invited designer Peter Moravčík, who had designed information system that Municipality of Žilina has used to mark over hundred historical buildings, painters Aleš Čermák and Pavla Lazárková Trizuljaková, farmer market Farmička.sk or NGO Mladý pes. There will be some presenters coming from Košice - Richard Kitta, presenting local literature scene and publishing house Dive Buki, another Eastern Slovak project is a book called NEÓNa, mapping shop signs and typography. From Bratislava, we will host architects and activists from Vnútroblok or architect Oliver Kleinert. More to see and hear will be for instance Miroslav Marendiak, winner of architecture competition Centrum Rudiny II, and Hungarian artist Krisztián Kristóf, our new resident in Visegrad Artist Residency Program. We will present how the "children" opera 2′16" and a half: Space Odyssea and how it was accepted by the audience in Prague and Brno.
Complete programme can be found at archiv.stanica.sk/pechakucha.
Admission: 4.00 / 3.00 € (adults / students)
Ticket reservations: rezervacie@stanica.sk, +421 948 344 606
Please pick up tickets 15 minutes before the beginning of the concert, otherwise tickets will be released for sale. Thank you for your understanding.