Anthony Nikolchev (USA):
The Echoes Off The Walls Underground Are Louder Than Your Footsteps Above Me
theatre show / Slovak premiere
Thursday and Friday, 6. and 7. 3. 2014, 7.00pm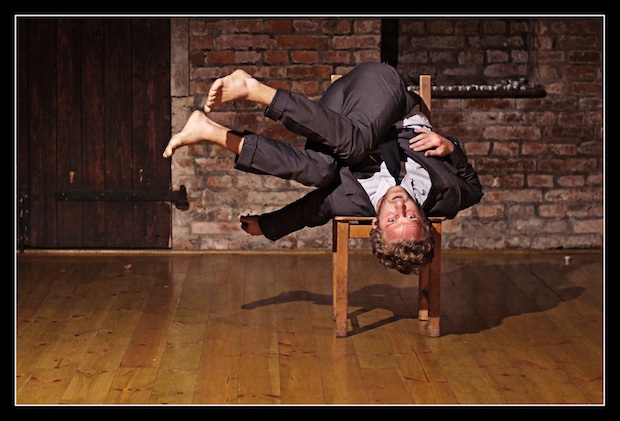 Tragedy of a man about comic sales, work, lonelyness and love in the time of crisis.
Strong testimony of successful and award winning actor from Los Angeles speaking about the crisis of today's man on the personal as well as economical level, in stunningly timely way. Main character's struggle between financial survival and personal valuation becomes a manifesto of current falling economy.
Main character of the story is a man. Man whose live is separated into two worlds. Under ground and above it. Above the ground, he is a television satelite receivers salesman in a store where the customers are coming for totally different purpose - thanks to this, he cannot help himself from the feeling that he sells something people does not need at all in time when they do not have almost anything. However, this senseless job provides him the only contact with people in his life. It sets his place in the society.
On the other side, there is a world in his half empty underground flat where, every day after his work, he finds himself alone. Solitude as well becomes equally frightening and unbearable in time of crisis. Moreover, there is this woman, her laughter and footsteps that he watches every day through his little window under ground. And his disability to make a contact with her. Wishing to find a way to both himself and others, he commences to dance a dangerous valtz of schizophrenia which connects one world with the other and where the differences, between taught gestures and phrases from the job and intimate world in which we should be ourselves, dissapear.
Thanks to daily working routine, a man becomes an artficial wheel in the system. But what if he loses it? Where is suddenly his real value, function, place, meaning? And how can he reach them if he keeps going off the way to his dreams due to his own expectations and failures?
The show will be in English language with Slovak subtitles.
Script, performing: Anthony Nikolchev
Director: Matej Matejka & Yuri Kordonsky
Where Willy Loman was tragic because his life finally amounted to nothing despite what he believed and did, the unnamed protagonist of this play is tragic because he's discovering he's amounting to nothing before he even gets a chance to do or become anything. It's shockingly timely. - NYtheatre.com
"Performance of astonishing physicality" - NYtheatre.com
"Nikolchev's talent as writer and actor is formidable." - NYtheatre.com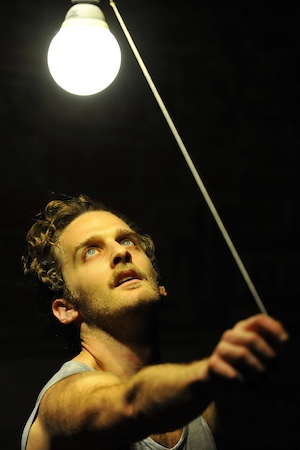 Anthony Nikolchev - actor and screenwriter. Born and works in California, Los Angeles. His production is introduced in Chicago, New York, Italy, Germany, Russian, Armenia and Poland. As a screenwriter and theatre critic, he has published in Indie Theatre Now and The St. Petersburg Theatre Jurnal, at Smolny University v St. Petersburgu, he hosted as a lecturer working with the topic of human rights and political theatre. For his two solo works (Look, What I Don't Understand and The Echoes Off The Walls Underground Are Louder Than Your Footsteps Above Me), he was awarded Best Actor in 2011 and 2012 at New York´s United Solo International Theatre Festival - world's largest festival of its kind. He was awarded Best Actor also at Los Angeles International Underground Film Festival, for Pearadise movie produced in cooperation with Studio Matejka in Poland. Los Angeles Times coined his work "harrowing in its authenticity". He has written for a Polish theatre magazin Teatr. From 2010, he is a part of physical theatre Studio Matejka, founded by Slovak choreographer, actor and dancer Matej Matejka, under support of the Grotowski Institute in Wroclav
Presale tickets: 5.00 / 3.00 € (adults / students); at door: 7.00 / 5.00 €
Ticket reservations: rezervacie@stanica.sk, +421 948 344 606
Please, come to take your reserved tickets at furthest 15 minutes before start of the event, otherwise they will be sold. Thanks for understanding.