Do It Yourself: Zoetrop
family workshop
Saturday 25. 1. 2014, 10am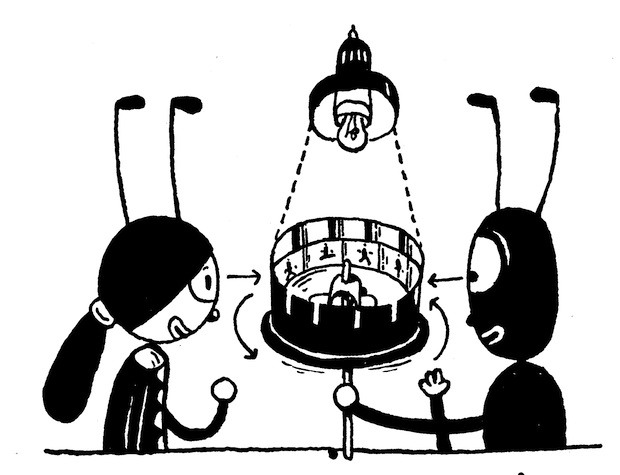 Do It Yourself is a new cycle of "handy" workshops prepared for you by family graphic studio Uutěrky (Martin, Pavla and Metoděj, www.uuterky.net). Right now, their working space is situated in the basement studio of Stanica. Uutěrky will always prepare semifinished product and you will complete it with their help - for example you will make a toy, sew a book or print a memory game using silkscreen technique. You will find them once in a month in the programme, usually Saturday morning.
At the first session, we will construct a special device with even more special name - ZOETROP. It will replace your television. What is it? ZOETROP is a grandfather of the animation, it is a mechanical toy used by people to play before first film was shot. Zoetrop is formed of rotating drum with gaps around. Inside, there is a strip with pictures. When you turn the drum around and watch through the gaps, you will be able to see smooth motion - animation. We will construct exactly this machine and then each participant will draw his own short animation.

The activities are dedicated for kids from 5 years of age, best accompanied by his/her parent or handy grandparent. There is no need to register in advance, just come to see right on the spot!
Admission: 5.00 € / child
Info: mjk@cmail.cz, +421 949 849 378