ME-SA, Peter Šavel, Stano Dobák:
Much More Than Nothing
performance
Thursday 9. 5. 2013, 19.00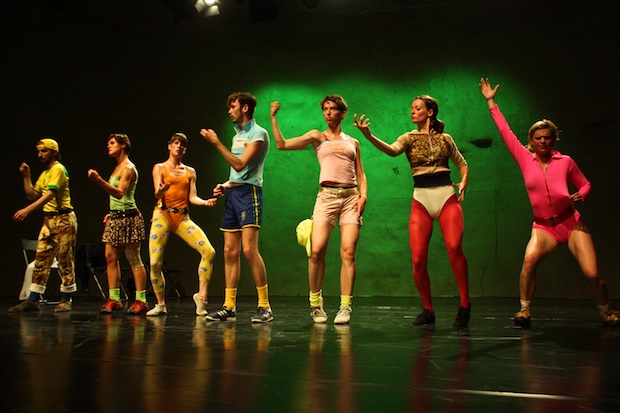 Crazy and spontaneous performance Much More Than Nothing is playing with the idea of manipulation. No matter how passionate and committed, dancers are "just" doing unworkable on 150 percents! Accomplishment of the absurd tasks does not give them any space for their own decisions, the same as they are falling down from tiredness after each new assignment.
In the background there is the thought of manipulation and the ongoing winding between Czechs and Slovaks. The play fiddles around with identity and nationalism and is greatly mastered by a generation of artists that were born in Czechoslovakia, grew up in Czech Republic and Slovakia and currently live in different places around the whole world.
Concept: Stano Dobák, Peter Šavel
Performing: Martina Hajdyla Lacová, Lucia Kašiarová, Tereza Ondrová, Andrea Opavská, Karolína Hejnová and Jaro Viňarský
Lights: Jiří Hajdyla
Costumes: Masha
The performance resulted from a residency organized by Alta Studio and it was supported by a foundation for living art Nadace život umělce.
(…) Placing these particular six performers in the one scene has proved to be a perfect choice. Each and every one of them has a distinctively original personality; however, they are able to sensitively react to each other at the same time.
(…) The performance is compact even though it lacks a concrete plot line. It is full of action and transformation. The main principles are a play and coincidence. The viewer sometimes doesn't know which performer to follow, nevertheless, the performance as a whole gives an impression of coherence. But mainly, it was a great fun to watch. The choreographer duo Peter Šavel and Stano Dobák has brought a new fresh wind into the Czech scene: a modern way of creating a performance, great dancing, humor and irony. (Petra Dotlačilová, Taneční aktuality)
(…) In Much more than nothing, the main focus was placed on the performers. Tereza Ondrová, Andrea Opavská, Lucia Kašiarová, Martina Lacová, Karolína Hejnová, Peter Šavel and Jaro Viňarský are performers who can grandly be labeled as All Stars best selection of the Czech and Slovak dance scene. Their piece was characterized also by a sense for self-irony and a play with irony in general. (Miroslav Zwiefelhofer, KioSk)
Entry: 6,00 / 4,00 € (adults / students)
Ticket reservation: rezervacie@stanica.sk, 0948 344 606
Support: