Couch Corner XLL (Extra Long Life)
dance-talk show
Friday 26. 4. 2013, 18.00 – 21.00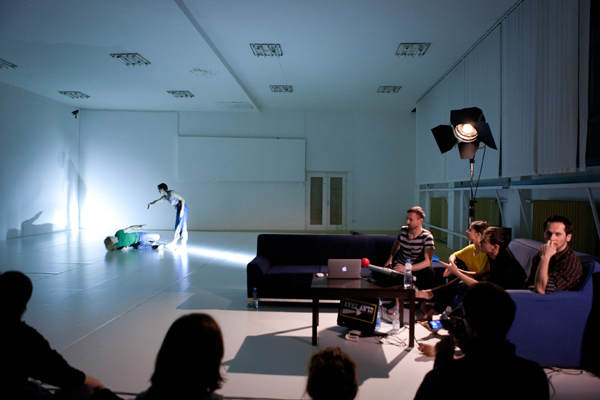 A three-hour improvised dance-talk show with Slovak contemporary dancers, in which the audience may be involved with their remarks, questions and ideas.
Couch Corner rouse spontaneously, while Milan Kozánkovci was staying at the University of Calgary in Canada in the year 2008, and several of dancers wanted to meet him and together with him dance on the stage. From this desire, the performance based on dance and verbal improvisation in the theater space, was developed.
Later Couch Corner has become a platform for gathering of experienced performers from different places in the improvised living room on the stage. It is about link between discussions about present topics and dance improvisation. A kind of "dance-talk show" on the philosophical or totally prosaic topics. The topics related on the dance, with the performers on the spot and with a place in which performance takes part.
Initiators of Couch Corner are Zuna Vesan and Milan Kozánkovci from Artyci Dance Theater, which is performing in each part of this series. After the performances in Calgary, Gdaňsk, Warsaw and Krakow, from 2012 the performance is finally going on in Slovakia.
Performers: Dano Raček, Jaro Viňarský, Zuzana Burianová, Katarína Brestovanská, Juraj Yuri Korec, Zuna Vesan and Milan Kozánkovci and others.
Entry: 5,00 / 3,00 € (adults / students)