Ivan Šiller
piano recital
Wednesday 10. 10. 2012, 7pm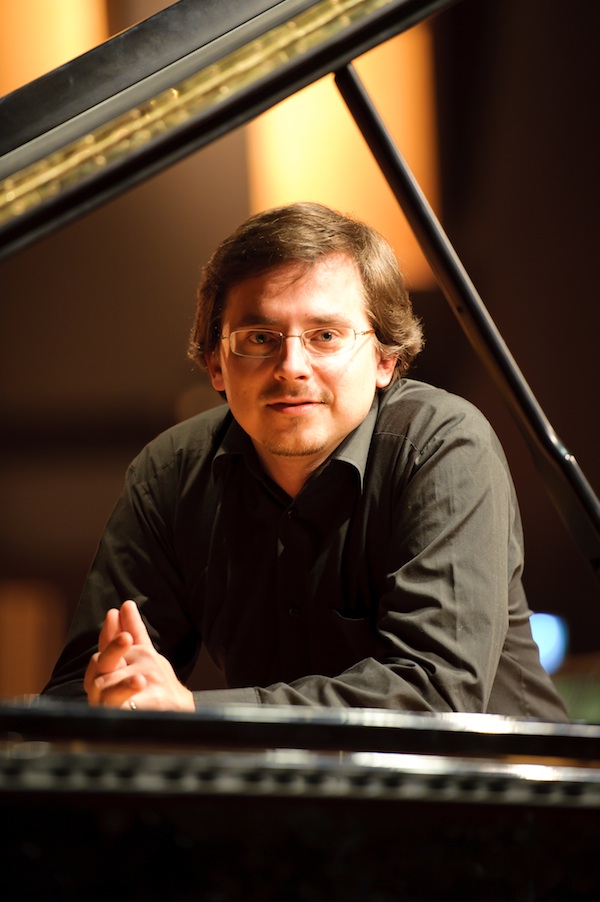 Ivan Šiller is an interpret whose "programme" is presenting musical works which are as actual as possible and on the stages, he tirelessly enforces a concept "contemporary = relevant". Naturally, everything new is seldom welcomed with warm belief, hence after a brief look at the concert dramaturgy across Slovakia, interpretation of "fresh" creations might seem minor. But people as Ivan Šiller guarantee that contemporary spectator will access also contemporary opus.
This recital will present progressive solutions of two (already) classics of 20th century.
Programme:
Luciano Berio (1925 – 2003): 6 encores
Brin (1990)

Leaf (1990)

Wasserklavier (1965)
Charles Edward Ives 
(1874 – 1954): Piano Sonata No.2 "Concord" Mass. 1840 – 60
Emerson
Hawthorne
The Alcotts
Thoreau
Ivan Šiller (1977) is a concert pianist, conductor and organizator of musical projects. He was a student of Milica Kailingová (ZUŠ Ľ. Rajtera in Bratislava), Daniela Varínska (Academy of Performing Arts, Bratislava) and Daan Wandewale (Hogeschool Gent Conservatorium, Belgium). He has participated several international interpreter course (Piešťany - Slovakia, Tanglewood - USA, Banff - Kanada) and competitions (EMCY Hamburg and others) where he won several awards. He performs as solo and chamber performer in Slovakia and abroad, including USA. He has conducted youth choir Eben Ezer and children choir Kvapôčky. Ivan Šiller is founder and art director of Space - festival focused on presentation of 20th century music. Besides concerts, he realizes numerous musical and musical-educational projects: Stretnutia s hudbou (Meetings with Music), Schubertiády, Hammerklavierfestival. He coorganizes concert cycle in galleries of Nitra, Nové Zámky and Stanica Žilina-Záriečie, actively cooperate with contemporary Slovak and foregin composers and ensembles. Šiller is also part of following musical projects: Erik Satie: Vexations, Steve Reich: Six Pianos and more. He has cooperated with theatre companies Walpurgis (Antverps) and Wederzijds (Amsterdam), with which he produced a piece about music and life of Charles Ives in season 2002 – 2003. Currently, he is preparing solo and chamber performances of pieces by Ives, Reich, Cage, Brahms, Schubert and Janáček.

Piano recital cycle is supported by monthly magazin Hudobný život.
Entry: 4.00 / 3.00 € (adults/ students)
You can find photos on our flickr account HERE.