Miki Skuta
piano recital
Wednesday 13. June 2012, 7pm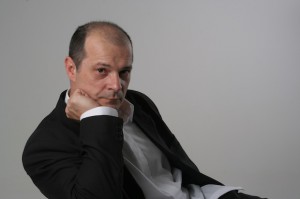 After František Pergler and Daniela Varínska, we present the third of the series of piano recitals performed by leading slovak piano artists. This time performed by a "polygenre" pianist, known even as a great pop and jazz player. Dramaturgically, he offers a piece, you would search in our concert program for a long time and in vain. You´ll hear what Beethoven´s genius was able to do with contemporary waltz.
Variations, same as sonatas, belong to the group of frequented music forms. Only few of them are but introduced in the form of "colossus" (for example Goldbergs variations of J. S. Bach) and the so-called Diabelli variations clearly belong here. It´s an hour long sequence of composition mastery results, which has to speak to people without musical education, as well, as to lovers of music piece analysis.
It is not a coincidence, that the german equivalent Veränderungen is closer to changes, metamorphosis, transformations. Beethoven works with the theme in a way, you cannot avoid associations with nature (nature science?) - we always only presume the presence of it´s mutual core in an inexhaustible number of its representations.
Programme
Ludwig van Beethoven (1770 – 1827): 33 Veränderungen über einen Walzer von Diabelli, op. 120 (33 variations on Diabelli´s waltz, op. 120)
Miki Skuta is one of our most prominent piano artists. He studied piano play at Conservatory in Bratislava. Then he continued studying at VŠMU, and one year in Paris as well. He splits his interests between jazz and classic music. Co-worked with many renowned musicians of both genres (Benjamin Schmid, Didier Lockwood, Mark Feldman and others). He performed as a soloist or a member of various collectives, recorded plenty of albums. With his wife Nora Skutová, they established a piano duo, which focuses since 1996 on interpretation of pieces from 20. century.

The series of piano recitals are supported by monthly Hudobný život.
Admission: 4,00 / 3,00 € (adults / students)