Literature night 2012
Wednesday 16. May 2012, 6pm - 10pm
various places throughout Žilina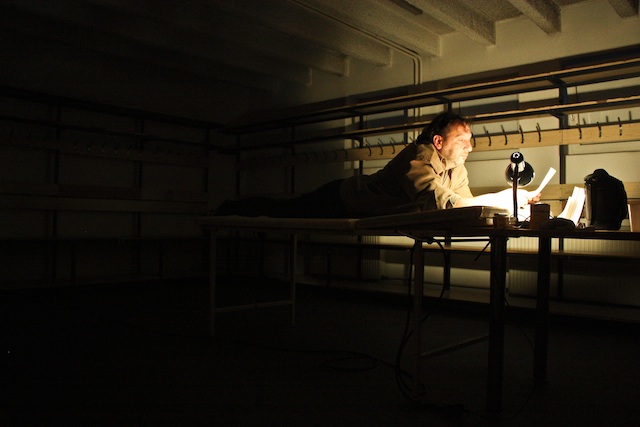 For the second time, we´re about to strike off an adventurous night voyage after literature to places, where you would definitely not expect it to appear. An international Literature night, iniciated by Czech centres of various european countries, will at this particular night happen simultaneously in a few cities around Europe, ten slovak cities included.
A literature happening is to introduce a selection from contemporary european literary scene, and will uncover the magic of smaller and bigger stories, which are to be at each place red by famous people from Žilina as well, as slovak culture scene – the actor Marián Geišberg, theatre actors Darina Abrahámová a Lenka Košická, the writer and visual artist Monika Kompaníková, protestant priest Marián Kaňuch with friends, dancer Jaroslav Viňarský, sportsman Peter Fiabáne and Sergeant Oto Dubovský.
The places where the stories are to be red are: Museum of Art Žilina, the gym in the TJ Sokol building, Protestant church, underground shooting ground of barracks in Závodie, Drevenica pub, catacombs underneath Mariánske square, Žilinas´ Puppet Theatre studios and Neolog Synagogue.
You can get a brochure with all information and a route map at each of places mentioned. Therefore your journey can start at random point. The readings will happen from 6pm parallel at all places in 30 minute intervals (15 minutes of reading, and 15 minutes to move to next place).
Every place you´ll visit will provide you with a stamp. If you will collect all the eight stamps from all eight places, you´ll have the chance to win books from Slovart and Artforum publishers. The drawing of winners will happen at literary afterparty after 10pm at Stanica.
For more detailed info, please visit: Stanica Žilina-Záriečie, bookstore Artforum
Admission free.
You can find photos on our flickr accoutn HERE.
2 Comments